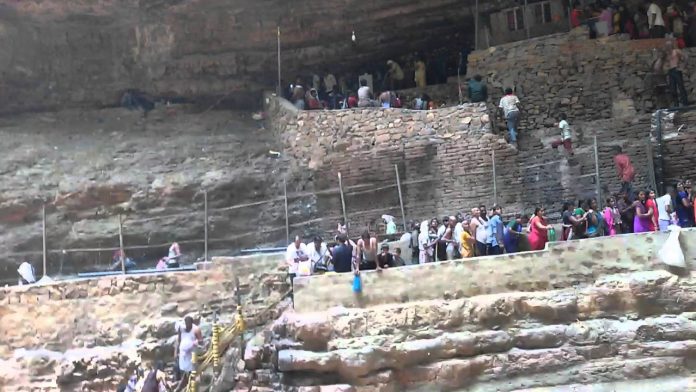 Variously known as Saleswaram and Saileswaram this place is one of the sacred spots of Nallamala forest, nearly of about 90 Km from Srisailam. Located in the beautiful forest environment it is at an attitude of 395 feet above the Sea level. This place is popular not only in folk tradition but also in the puranic lore also. The Sriparvatha Purana, a celebrated literary work of Seshanatha in 16th Century about Srisailam speaks glorifying with regard to this place. It is endowed with a cave temple dedicated to God Siva and two ponds named as Sarvesa theertham and Pushkara theertham. This temple seems to be datable to 6th and 7th Centuries A.D., and constructed within the shallow cave with bricks and mortar. In front of the temple there is a huge water fall from a height of about 200 meters cascade down the hill holding the visitor spellbound with its raw beauty. This place is the most beautiful one which has natural picturesque locales and it is a sight to be seen.
The Temple and the road connecting it are closed throughout the year as it is situated in deep valley, but are opened for 5 days during (March-April). Pilgrims from far off places come to visit this temple in Full Moon light on Chaitra Purnima (The full moon day of Chaitra (March-April)) as it is meant auspicious.
Buses To Saleshwaram
RTC arranges special Buses during this time from Acchampeta and Kalvakurthi Bus Depots for the convience of the pilgrims.
Map Location Of Saleswaram