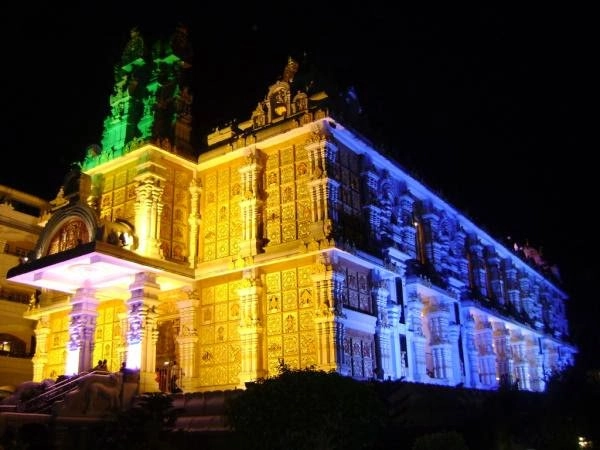 Isckon Temple
Isckon Temple at Tirupati is a marvelous construction that one should not miss during their visit to Tirupati. Its located in the heart of the city and near to Alipiri and Kapila Theertham.
History
It was well known over the years that ISKCON has grown in the matter of spiritual popularly throughout the world and to-day it is widely recognized by theologians, scholars, students and laymen as a genuine and important organization for protecting and preserving the spiritual welfare of all. The reason for this is twofold:
First and foremost, the spiritual master and Founder Acharya of ISKCON. His Divine Grace A.C.Bhaktivedanta Swami Prabhupada was a spiritual leader of substantial and purity. As the representative of the unbroken chain of disciplic succession from Lord Sri Krishna Himself, Srila Prabhupada is celebrated as the leading exponent of Vedic knowledge and culture of this age.
Secondly, the philosophy and lifestyle of the devotees in Krishna Consciousness movement is grounded firmly as per the teachings of Srimad Bhagavatam- As it is and Srimad Bhagavad-Gita.
Distance
It is located at 3 KM from Bus Stand and 3.5 KMS from railway station.
Address
Chenna Reddy Colony, Marri Chenna Reddy Colony, Tirupati, Andhra Pradesh, 517501.
How To Reach
Want to know more about ISCKON . Click here – https://www.iskcon.org/