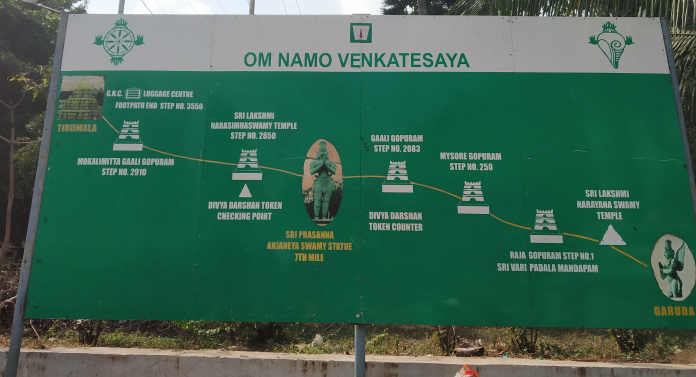 Divya Darshan 
COVID Update : Special Tokens are not issued for divya darshan now. You need to take Rs. 300 special entry darshan tickets online. With that ticket you can go either via pathway or by road via bus or own vehicle.
Pathway timings are as below:
Alipiri Pathway – 6 AM to 2 PM
Srivari Mettu Pathway – 6 AM to 4 PM
Visit below link to Know more details about each pathway :
The Below information is outdated due to COVID Pandemic. Please refer above instructions and plan your trip.
» Divya Darshan is for pedestrians who come by foot to Tirumala through Gali Gopuram or Srivari Mettu
» Darshan Token Price:  Free
» Darshan Tokens issue Time:  Darshan tokens are issued for the people who come by foot  to Tirumala
» Reporting Place:  Besides VQC 1
* Report One hour before Darshan time indicated on the Token
Total Steps : 3550
Distance: 9 KM
Alipiri is 5 KM away from Tirupati Bus Stand
Will be Opened 24 x 7
Divya Darshan Tokens will be given at Gali Gopuram 2
TTD Free buses will be available from Tirupati Railway Station / Srinivasam Complex.
Toilet facilities will be available on the way
Various food stalls will be available on the way
Total Steps : 2350
Distance: 2 KM
Srivari Mettu is 17 KM away from Tirupati Bus Stand
Entry Will be closed at 5:30 PM.
Security will be available 24×7
Divya Darshan Tokens will be given at ~1300th Step
TTD Free buses will be available from Tirupati Railway Station / Srinivasam Complex.
Toilet facilities will be available on the way
Various food stalls will be available on the way