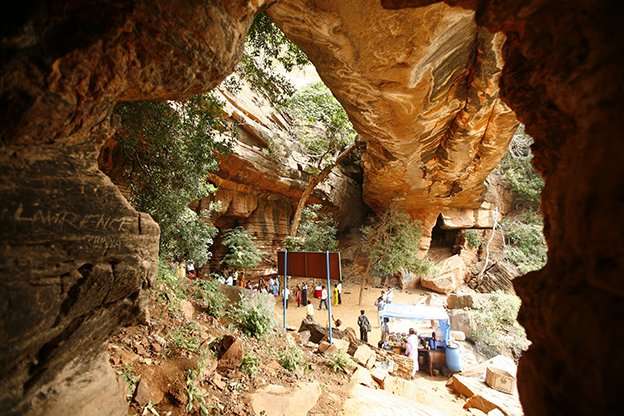 The Nallamalai Hill ranges are studded with innumerable natural caves and caverns which were over a million years old. Some of them became more famous and played a role in the significance of Srisailam and one such among them is the Akkamahadevi Caves. These naturally formed caves just above the flow of the river Krishna upstream is about at a distance of 10 km from Srisailam.
It is said that Akkamahadevi the famous ascetic lyricist and philosopher hailed from Karnataka in 12th Century AD spent some years in these caves doing penance and worshipped the Sivalinga naturally existed in the deep and dark end of the cave and hence named as Akkamahadevi Caves.
These caves are also considered to be the abode of Siddhas who are said to have practiced the Yogic arts like alchemy for which Srisailam was renowned in the ancient days.
These meandering caves of about 250 meters deep in the right side and 150 meters on the left side with natural rocky structures in and around keeps the visitor spell bound. Some loose icons of Kapala Bhairava, Veerabhadra, Mahishasuramardhini and other of medieval period are noticed at the entrance of the caves.
The Rock Arch
Akkamahadevi caves are endowed with a natural Rock Arch which stands majestically without any support. The surroundings of the caves and its journey through the river Krishna from Srisailam provides a wonderful experience to one and all. The people of Karnataka and Maharastra make it a point of visit in their pilgrimage of Srisialam, particularly during the time of Ugadi the telugu new year day.