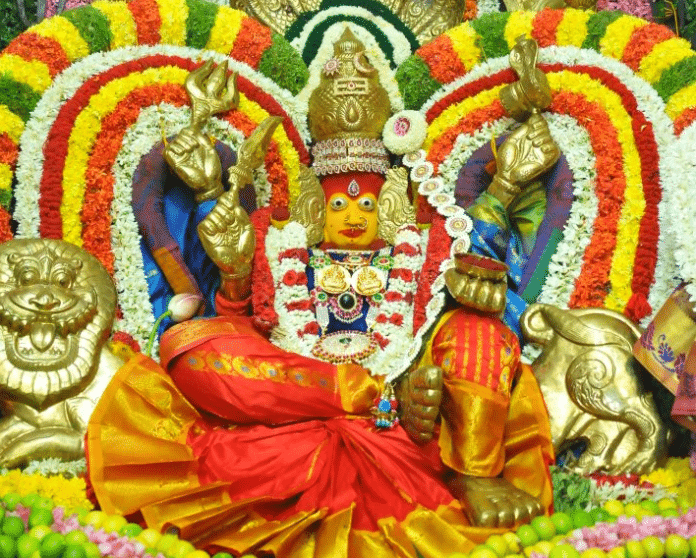 Sri Tataiahgunta Gangamma Temple History
Sri Tataiahgunta Gangamma is Grama devatha of Tirupati town. Once upon a time when Tirupati and surrounding areas are ruled by "Palegondulu", harassment on women was enormous, they use to rape and harass any woman seen.
During this time in a village "Avilala" the Godess Gangamma was born and grown as most beautiful women. When the Palegondulu went to the Goddess Gangamma with bad intention, she with her grace and power tried to kill him fearing her, Palegondulu was hidden in a remote place.
To take him out of hide the Gangamma planned "Ganga Jathra" where the people in Tirupathi do vichitra veshadarana and curse Gangamma for a period of 7 days. On the seventh day the"Palegondulu" comes out from hidden place and was killed by Godess Gangamma for the "LokaKalyanam".
Ganga Jathara
Gangamma Jatara is a very famous local festival for the People of Tirupati. It is done every year in month of May. As the Gangamma temple was in banks of Thathaya gunta, the temple is famous as "Thathaya Gunta Gangamma Temple".
Gangamma is the sister of Lord Venkateswara Swamy.  TTD (Tirumala Tirupati Devasthanam) sends "Saare", an auspicious gift on behalf of Lord Sri Venkateswara Swamy, which includes sarees, turmeric, kumkum, bangles etc., to Goddess Gangamma during the Jatara.

Temple Timings
6 AM to 9 PM
Distance
It is located at 3 KM from Tirupati Bus Stand.
Address
Gangamma Temple, Thathaih gunta (Tata Nagar), Tirupati, Andhra Pradesh, 517501.
How To Reach