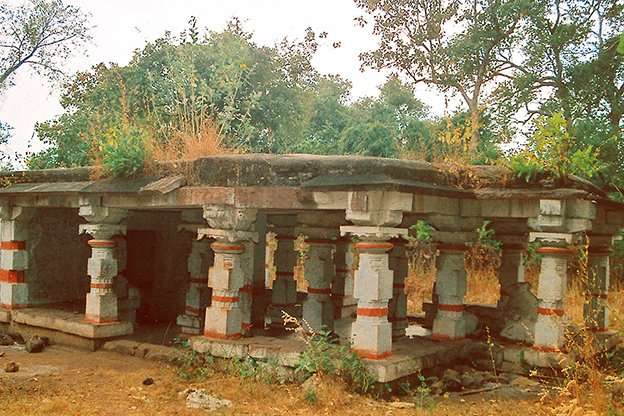 Located in a dense forest setting, Nagalooty is of about 28 km from Srisailam. This place stands as a testimony to the ravages of time and man. Many dilapidated temples, gopuras, pushkarinies and broken idols speaks about its once glorious past. On architectural grounds and iconographical features the temple and sculpture of Nagalooty can be dated to a period between 13th – 15th Centuries.
Commonly associated o Tantric, the Bhairava Cult appears to be one of the most prominent cults in the religion of Srisailam.
The ancient foot path to Srisailam from southern and western sides begins at Nagalooty from where excellently laid steps of solid stone slabs can be seen and these steps were constructed by the Reddy Kings in between the period 1326-35 A.D.
Among the four ancient path ways of Srisailam, this Nagalooty route is the most popular one and a large number of devotees particularly the devotees of Sivadeeksha and Kannada devotees used this way even today. Nagalooty houses a huge temple complex of Veerabhadra Swamy, which is a stone structure consisting of Garbhagriha, Antharalaya, Mukha Mandapa along with another 18 pillared mandapa. On the left side of the Garbhagriha there is a small chamber which houses Goddess Bhadrakali.
The Rajagopuram of the temple is in the eastern side of the temple complex and is in dilapidated condition. At the right side of the temple near the eastern gopuram there is another huge 16 pillared mandapam. Of about a hundred meters to the main temple houses ten handed seated Ganapthi. There are two pushkarinies near to the Ganapathi temple.
The pillars of the mandapas are carved with several sculptures such as Natya Ganapathi, Tandava Murthy, Kali, Mahishasura Mardhini etc. At the pathway leading to Srisailam there is a seated Gramadevatha locally known as Kuruvalamma.