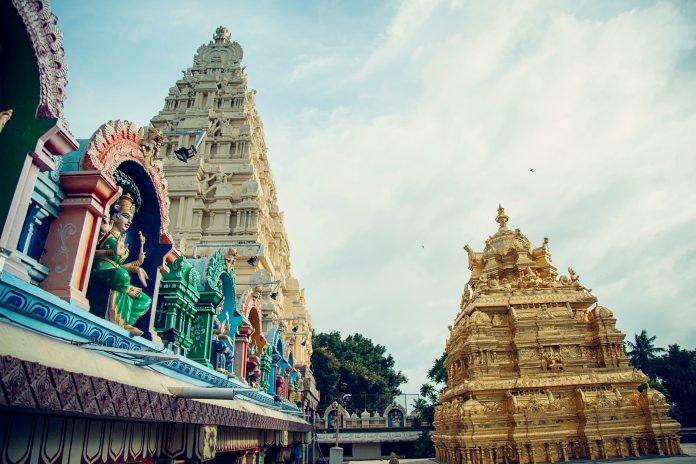 Srisailam Poojas And Sevas
Below are the details of Poojas performed at Srisailam Temple
Sl.No.
Name of the Seva
Price
1
Abhisekam ( Garbhalayam)
5000
(Online / Current Booking)
2
Abhisekm ( In Kalyana Mandapam)
1500
(Current Booking / Online / Advance )
3
Single Abhisekam
750
(In Kalyanamandapam)
4
Abhisekam( To Sri Vrudhamallikarjunaswamy)
200
5
Rudra Homam with Ganapathi Homam
1500
6
Ganapathi Abhisekam
300
7
Mahanyasapurvaka Rudrabhisekam
2116
8
Gopuja
120
9
Bhilwarchana (In Garbhalayam)
5000
10
Bilwarchana ( To Sri Vrudha Mallikarjunaswamy)
2500
11
Mruthyunjaya Homam
508
12
Navagraha Homam
508
13
Chandralingabhisekam
108
14
Balarishtagraha Puja
316
15
Sarpadosha Nivarana Puja
316
16
Mahamruthyunjaya Abhishekam
1116
17
Sahasralingeswara swamy Abhisekam
250
18
Surya Lingabhisekam
250
19
Annaprasana
150
20
Namakaranam
150
21
BalaristaDosa Nivarana puja
21
22
Siva Sahasranamam
500
( To Sri Vruddhamallikarjuna swamy)
23
Kalyanam
1000
24
Ekantha Seva
120
25
Pallaki Seva
220
26
Vahana Seva
520
27
Sarvaseva Pathakam
5000
( Harathi, Abhisekam, Kunkumarchana,
Chandi Homam, Rudra Homam and Kalyanam)
( Permission may be taken from A.E.O.
(Temple) on or before one day)
Srisailam Temple Seva Online Booking:
Click on the below button to book Srisailam Poojas Online.
Online Booking – Click Here
1. A printed copy of ticket is essential to attend service.
2. AN ID proof on the name of the ticket holder must also be shown.
3. This ticket is non-transferable and it cannot be cancelled.
4.Devotees are requested to collect the Abhisekam / Puja original tickets at Donation Counter before 9.00 P.M one day before the date of performance.
5. For all Sevas & Pujas, Male sevadars shall wear Pancha with Kanduva and females shall wear Saree with Blouse invariably. Other dresses will not be allowed.
6. Abhishekams are performed in Garbhalayam. Abhishekam Sevadars shall wear Sampradaya Vasthrams invariably.  Only couple or single person will be allowed to perform Abhishekam on one ticket.  Children below 10 years of age are also permitted to follow their parents.  Other kith and kin will not be allowed along with sevadars of Abhishekam ticket holders.  Those kith and kin should take Rs.500/- ticket each to enter into the temple only for having Darshanam and not to perform Abhishekam seva.
7. Only one person is allowed for Suprabhatham Seva, Harathi Seva and for Seegra and Athiseegra Darshanams.
8. Devotees are requested to collect the abhishekam / puja articles inside temple.