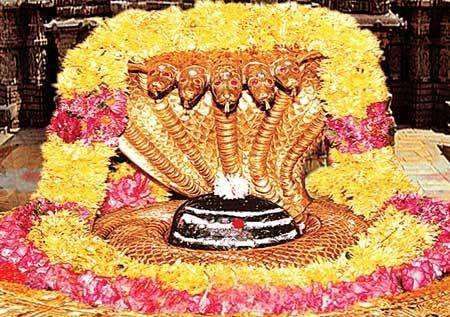 Sri Srisaila Mallikarjuna Temple
Srisaila Mallikarjuna Temple is one among the 12 Jyothirlingas in India. Great supremacy was given to Lord Vinayaka over Lord Shanmukha by their parents. As a result, Lord Shanmukha got disappointed and angry. He went to Sri Sailam Having his legs bound by 'mantras', He sat on the Krowncha Mountain. His mother requested her son to come to Kailash. But he was silent. Goddess Parvathi was unable to leave him. She decided to stay on the mountain as "Shakhti". So, Srisailam has become 'Shakthi Peetham' with the name Bramarambika. Lord Shiva also could not leave them and stayed there as Jyothirlinaga with the name Sri Mallikharjuna.
In course of time, the king who ruled the region had a daughter after a very long time. He named her Chandravathi. When she was a baby, he participated in a war, The war continued for a period of sixteen years. The king came back to his kingdom. Thinking that his own daughter was some other person, he went after her with a bad notion. His daughter jumped into River Krishna in order to escape from him. Still her father continued his sinful attempt. She immediately cursed her father to become a huge boulder. The king became a green boulder. The water in the river also became green. Chandravathi used to offer worship to the Jyothirlinga with jasmine flowers daily. Lord Shiva was pleased with her worship and granted a boon. She prayed to the Lord that her garland of jasmines must be around his neck and she should alone decorate his braid with her garland of jasmines. Lord Shiva granted her request saying that her garland of jasmines would never lose its fragrance Chandravathi felt happy. Lord Shiva became Lord 'Mallikharjunalinga' as Jyothirlinga.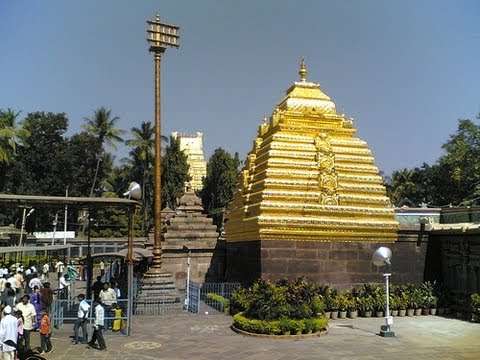 Temple Darshan Timings
Morning : 6.30 AM – 1 PM
Evening: 6 PM – 10 PM
Srisailam Temple Accommodation
Devastanam administration has taken all measures for the piligram's comfortable stay on the Srisailam. Visitors will be offered diffrent kinds of accomodation ranging from Normal rooms to A.C Suits in various choultries and guest houses on the hill.
For the convenience of the casual visitors devastanam provided lockers to keep their luggage. Advance reservation facility is available for all accomodations 20% only in Online Booking except V.V.I.P Cottages. Remaining Accommodation and cottages will give at Central Reception Office which is located at Ganga Sadan.
Accommodation Booking – Click Here
How To Reach:
By Train: Markapur, which is 91 K.M. from Srisailam in Guntur-Hubli, line on South Central Railway from where buses are available to Srisailam.
By Bus: Srisailam is well connected by A.P.S.R.T.C / T.S.R.T.C .Buses not only from all corners of the State but also from Bangalore, Chennai etc. The Karnataka Road Transport Corporation is also running buses from various main cities of that state.
By Flight: The nearest Airport is Hyderabad (230 K.M.) from where buses are plying to Srisailam everyday frequently.