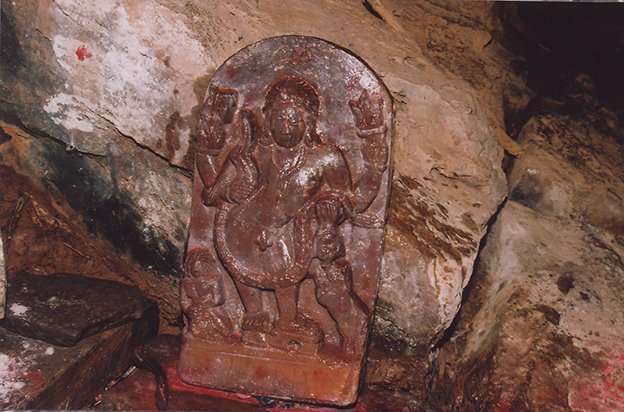 Literature describes the Bhairava, one of the forms of Siva as the boom bestowed. As many as eight forms of Bhairava, each having another eight sub forms, thus amounting 64 forms are described. Commonly associated o Tantric, the Bhairava Cult appears to be one of the most prominent cults in the religion of Srisailam.
Bhairavasela a place of Bhairava cult at Srisailam is situated amidst enchanting natural beauty and having a prominence since ancient times. This place is located of about 13 km from Srisailam and reached through narrow forest tract from the 39th mile stone on Dornal – Srisailam highway, close to Sikharam. This spot consists of a cave and beautiful water falls.
The cave houses a rare and beautiful sculpture of Bhairava done in reddish quartzite. The sculpture is only one of its kind in which a Kapalika depicted at the feet of Bhairava, who is shown in a tribhanga standing posture having padukas. Similar sculptures are not to be found elsewhere.
The local tribal of this place chencus worshipped their God Bayanna at the same cave in the form of natural blacks of stones and so the place is locally known as Bayanna Sela. The entire region is blessed with scenic beauty in the form of lust green vegetation and meandering water falls, which has been enthralling visiting by their silvery cascade.