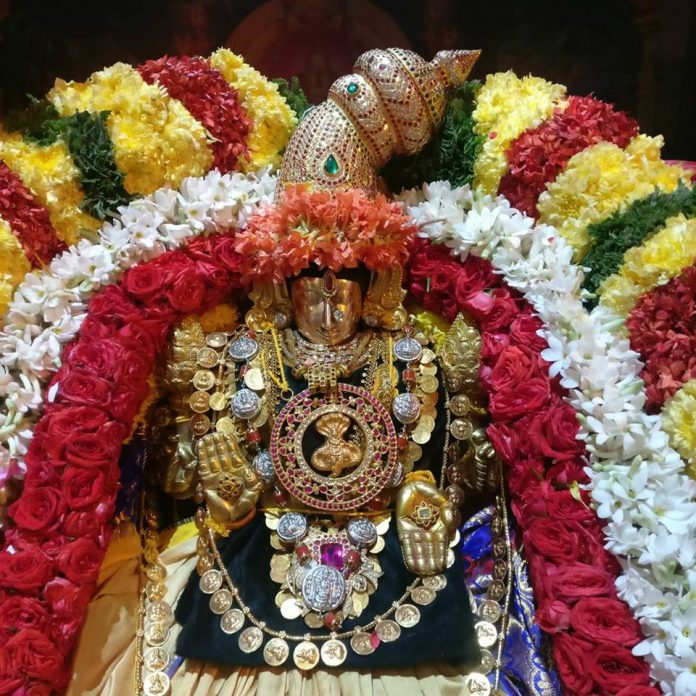 Padmavathi Temple Legend
Tiruchanoor, the abode of Goddess Sri Padmavathi Devi, is one of the highly venerated places in the South. Padmavathi Temple is located at a distance of 5 KMs from Tirupati, the temple dedicated to Sri Padmavathi Devi, the consort of Lord Venkateswara, attracts thousands of devout pilgrims every day. The Goddess, also known as Alamelu Manga, is the inexhaustible source of compassion and love. According to tradition, the Mother Goddess manifested Herself in the holy Pushkarini called Padmasarovaram in a golden lotus. The Venkatachala Mahatyam states that Lord Suryanarayana was instrumental in blossoming of the lotus in full splendour. A temple dedicated to Lord Suryanarayana is situated on the eastern side of the Pushkarini. The Padma Purana gives a vivid description of the advent of the Goddess and subsequent wedding with Lord Srinivasa.The manifestation of Sri Padmavathi Devi occurred in the month of Karthika on Sukla Paksha Panchami when the star Uttarashada in the ascendent. The Brahmotsavam of the Goddess is celebrated at Padmavathi Temple with all pomp and glory to commemorate the auspicious occasion of Her avatara.
About Goddess Padmavati Devi
About Vahanams Of Goddess Padmavati Devi
Daily Sevas
No

NAME OF THE SEVA/UTSAVAMS

NO.OF PERSONS ALLOWED

TIME

TICKET PRICE

1
SUPRABATHAM
1
5.00 AM 3.30 AM (ON FRIDAY)
25/-
2
SAHASRANAMA ARCHANA
1
5.30 AM 4.00 AM(ON FRIDAY)
25/-
3
PADMAVATHI PARINAYAM (KALYANOTSAVAM)
2
10.30 AM
500/-
4
UNJAL SEVA (DOLOTSAVAM)
2
5.00 TO 6.00 PM
6.00 TO 7.00 PM (ON FRIDAY)
116/-
5
KUNKUMARCHANA
2
10.00 TO 11.00 AM
3.00 PM TO 4.00 PM
7.00 PM TO 8.00 PM
200/-
6
SPECIAL ENTRANCE
1
DURING SARVA DARSHANAM
20/-
7
EKANTHA SEVA
1
9.00 PM
25/-
8
V.I.P DARSHAN
1
DURING SARVA DARSHANAM
100/-
9
VEDA ASEERVACHANAM
2
DURING SARVA DARSHANAM
500/-
Distance
Tiruchanoor Padmavathi Ammavari temple is located at 5 KM from Bus Stand.
How To Reach Padmavathi Temple
APSRTC runs buses for every 15 mins from bus stand to Tiruchanoor.
Auto Rickshaw
Cab