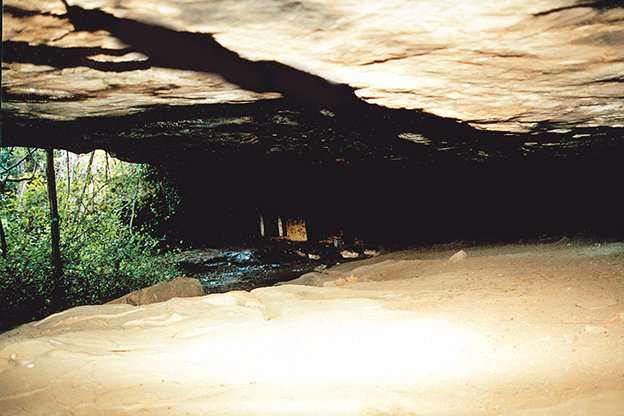 The huge cave like natural Rock Shelter – Kadalivanam Cave is on the left bank of the river Krishna on the opposite side of Srisailam at a distance of 21 km from the main temple. This Rock Shelter can accommodate more than 500 persons comfortably at a time. The place derived its name dell to wild plantain grooves.
After reaching the Kadalivanam revu which is at the bank of river Krishna, there is a foot path of 11 km to Kadalivanam.
This excellent spot is considered to be extremely sacred in the sacred complex of Srisailam. Srinatha is renowned poet of 15th Century in his Kasikhandam gloriously praised about this place.
It is said that Bhagavan Dattatreya and his other incarnations is believed to have dwelling at this place. Allama Prabhu the great Veerasaiva saint is said to have performed penance here. Akkamahadevi a follower of Veersaivisam is known to have breathend her last at this place.
Kadalivanam is also considered as Siddhasthalam – the abode of Siddhas who practiced various Yogic arts for which Srisailam is famous in medieval period.
Near the rock shelter flows a Perennial stream close to which evidences of prehistoric man in the form of stone tools were discovered.
The devotees particularly followers of Datta Sampradayam and also pilgrims of Karnataka and Maharastra visited this place in their pilgrims to Srisailam generally on Ugadi days.