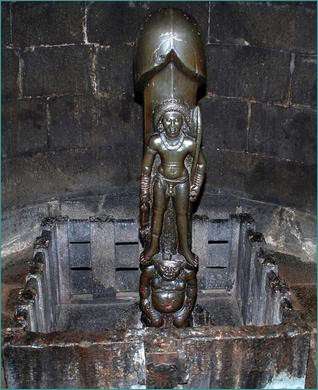 Gudimallam Temple History
Gudimallam is a small village located in Srikalahasti Mandal, of the Chittoor district of Andhra Pradesh, India. It is seven miles away from Renigunta Railway Junction of considerable significance. Though a small village, historically it is very important, because it has a beautiful Siva Temple which is popularly known as "the Parasurameswara Temple."
The main importance of the temple lies in the Linga which is housed in the Garbhagriha of the temple. This is supposed to be the earliest Linga discovered so far and it has been assigned to the 2nd or 1st century B.C. Vipirampedu in Tamil. The name of the temple is mentioned as Parasurameswara Temple in the inscriptions. These inscriptions do not refer to the original builders of the temple. But they register the gifts made to the temple like land, money and cows for the conduct of daily worship in the temple. The Black and Redware sherds of the 2nd or 3rd century A.D. have been brought to light during the course of excavations conducted in 1973. Potsherds of the Andhra Satavahana period (Circa 1st century A,D. to 2nd century A.D.) and large sized bricks measuring 42+21+6 cms. of the same period have also been found. Hence some historians assign the temple to the Satavahana period.
The Linga depicts the true nature of a Shiva linga, with the human form carved well within the limits of the linga. The floor of the sanctum is at a low level compared to the floor level of the Antarala and Mukhamantapa. There is also an interesting tale to tell that Gudimallam Shivalingam is believed to be a manifestation of the Trimurtis, with Brahma at the bottom, Vishnu in the middle and Shiva on top.
This lingam, which is unlike any other, is one of the oldest lingams, dating back to the first or second century BC! Shaped like a phallus, it is amazingly lifelike, and it also has an image carved on it. The carved image shows a dwarf sitting on his hunches, with a hunter perched on his shoulders. This is a unique image, seen nowhere else!
Distance:
It is located at 20KM from Tirupati Bus Stand.
How To Reach: