Golden Temple
The Sripuram Golden temple has been built on 100 acres of land in Vellore by the Narayani Peetham headed by Shakti Amma. It's a beautifully constructed temple situated in the centre of exquisitely laid out gardens and a pathway in the shape of a star.
The temple build in true Deccan architecture style is a massive depiction of Indian craftsmanship. The temple welcomes you with the National Flag of India fluttering at the entrance, infusing an invariable sense of national pride. Enter the temple and you have to walk a Star shaped path to reach the main idol.
The path has quotes from Vedas written all through, punctuated by some great sculptures, beautiful gardens, fountains and scenic hills in the backdrop. The star shape long path to reach the idol is strategically constructed. By the time you reach the main idol, even if you have read half of the quotes in the way, you are unknowingly closer to almighty and the darshan becomes more fulfilling and enriching experience.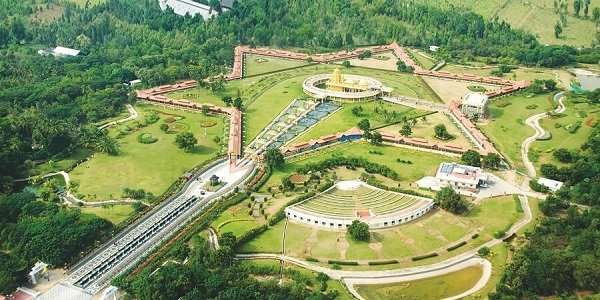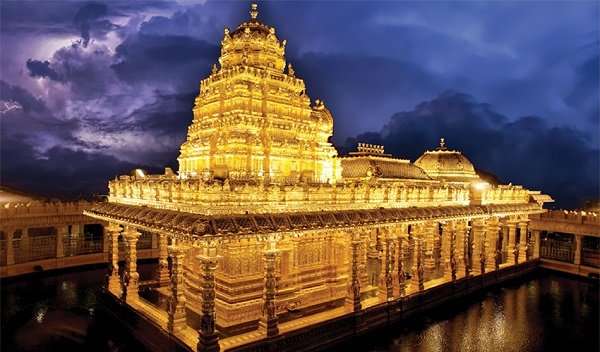 Temple Timings
Abhishekam: 4AM to 8AM
General Darshan: 8AM to 8PM
Seva / Pooja
Pooja / Seva
Procedure
Timings
Ticket cost per head
Maha Aarthi
Devotee will be allowed to sit infront of Sri Lakshmi Narayani and have the different Aarthies performed
6PM
500/-
Veda Parayana seva
Devotee will be allowed to sit infront of Sri Lakshmi Narayani and have the Dharshan
8AM to 8PM
250/-
Kum Kum Archana seva
Devotee will be allowed to sit infront of Sri Lakshmi Narayani and have Archana
8AM to 8PM
500/-
Sri Vastram Seva
Devotee is blessed to offer nine-yard silk saree to Sri Lakshmi Narayani and will be allowed for Aarthi Dharshan
8AM to 8PM
10,000/-
Abhisheka Pooja
Devotees will be allowed to sit and have the dharshan of Sri Lakshmi Narayani Abhishekam, Alankaram and Aarthi.
4:30AM to 8AM
3000/- All Days
5000/- On Friday
Sri Suktha Homam
Four devotees will be allowed to sit and perform the Sri Suktha homam along with priest in front of Sri Lakshmi Narayani at Saheshara Deepa Mandapam.
9AM to 11AM
3000/-
6PM to 8PM
Pushpa Alankara Seva
Four devotees are blessed to sit in front of Sri Lakshmi Narayani and can have Aarthi Dharsan.
8AM
3000/-
Sri Swarna Lakshmi Abhishekam
One person is allowed to perform Thulasi theertha Abhishekam to Sri Swarna Lakshmi on their own hands.
Through out the day
100/-
Artha Mandapa Seva
Devotees are allowed to sit inside Artha Mandapam very near to the deity and have the dharshan and Aarthi. After Aarthi, the devotee will be blessed with Kumkum and Raksha Prasadam from the divine feet of Sri Lakshmi Narayani.
8AM to 8PM
1000/-
Distance
It is located at 113Km from Tirupati, 145km from Chennai, 215km from Banglore.
Address
Sri Narayani Peedam, Thirumalaikodi, Vellore, Tamil Nadu, 632055.
email: [email protected] | Phone: 0416-2206500
How To Reach