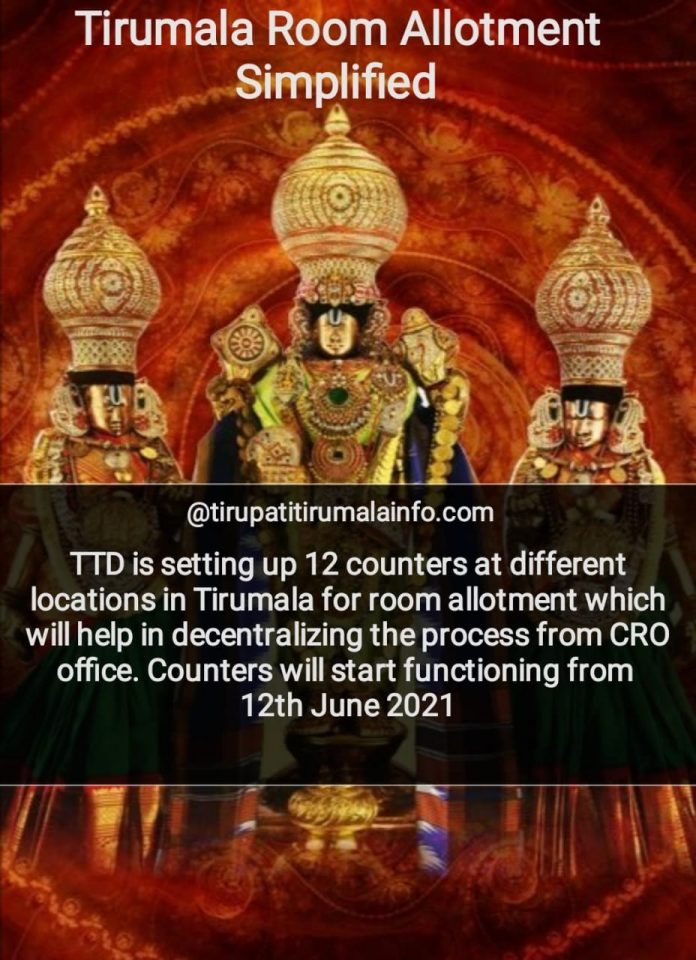 Tirumala Current Booking Room Allotment
To Ease out the Tirumala Current Booking Room Allotment Process, TTD is setting up 12 registration counters at six locations (instead of the existing registration counter only at CRO office) in Tirumala from June 12 on wards for easy allocation of accommodations to devotees in Tirumala.
Tirumala Room Allotment Counter Locations:
| | |
| --- | --- |
| Counter Location | No. Of Counters |
| Luggage Centre Near GNC Toll Gate | 1 |
| Balaji Bus station, Tirumala | 2 |
| Car Parking Area near Kausthubham Rest house | 2 |
| Bus Stand near Ram Bagicha Guest house | 2 |
| MBC Area near Srivari Mettu | 2 |
| Central Reservation Office (CRO) | 2 |
All arrangements are completed at all six locations for registration of names for rooms. Devotees will get SMS confirmation once the room is allotted. They can then proceed towards Sub enquiry offices of their respective allotted cottages for payment of tariff and collection of room keys.
This will help to reduce the rush and wait time at CRO Office. Apart from this Offline Booking Counters, Pilgrims can also book the accommodation and darshan tickets online.
Read this article For more information – TTD Online Booking