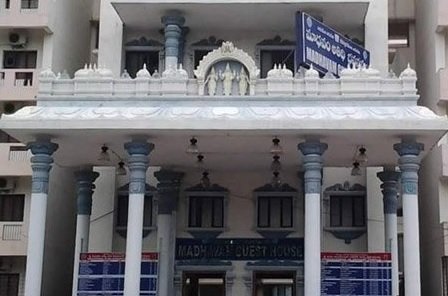 Madhavam Guest House
Madhavam Guest house is located in the Prime location of Tirupati. It is located just opposite to Tirupati Central Bus stand. Madhavam Cottage is located within the premises of Srinivasam Complex. Rooms should be booked through online only.
Madhavam Room Rent
| | |
| --- | --- |
| Room Type | Rent |
| A/C Suit Room | Rs. 800 /- |
| A/C Deluxe Suit Room | Rs. 1000 /- |
Madhavam Online Booking 
For Advance booking of rooms at this complex, please visit – https://tirupatibalaji.ap.gov.in
Check-in Timings
Slot-1: 12 AM to 5:59 AM
Slot-2: 6 AM to 11:59 AM
Slot-3: 12 PM to 5:59 PM
Slot-4: 6 PM to 11:59 PM
pilgrims who had selected time slot has to report only in that time. If reported lately, room will not be allotted, hence be cautious while selecting check-in timeslot during online booking.
Check-out Timings
Room will be issued for 24 hours from the time you check-in.
Madhavam Complex Facilities
Madhavam Complex has rooms with AC facility at a very reasonable cost.
Lot of parking space available
Rooms are equipped with wardrobe, dressing mirror, clean and well maintained toilet.
Diwan is available in Suit rooms.
As it is located with in the compound of Srinivasam complex you can utilize all the facilities available in Srinivasam Complex as well.
You can purchase any toiletries needed(like Soaps, Brush, Paste, Towels, etc) in Srinivsam Complex.
Various nationalised bank counters are available in Srinivasam Complex.
Medical dispensary is also available.
All the basic needs of a pilgrim are available within the Complex.
Madhavam follows 24 Hour check out. If you take a room at 7 AM today, you can check out at 7 AM the next day.
How To Reach Madhavam Guest House
It is 1.8 KM away from Tirupati Railway Station. You can hire an auto for Rs.50 /-
It is 400 Meters away from Tirupati Central Bus Stand. Its a 5 minutes walk from Bus Stand. There is a subway available from Bus Stand to Madhavam Complex premises.
It is 14 KM away from Tirupati Airport located near Renigunta. You can hire a cab for airport pickup.
Points To Remember
Accommodation can be cancelled online but only Base tariff will be returned and you will not get the GST that has been charged.
You need to check – in only during the time slot you had selected while booking the room, if you come lately then room will not be allotted.
Caution deposit will be credited back to your account after vacating the room within 7-10 days.
TTD Accommodation Online Booking is available for below complexes
Srinivasam Complex, Near Tirupati Bus Stand
Madhavam Complex, Near Tirupati Bus Stand
Tholappa Gardens , Near Tiruchanur Padmavathi Temple
Offline / Current Booking 
TTD Accommodation Current Booking is available at below Complex
Also Read About – TTD Online Booking – Rooms, Darshan, Sevas