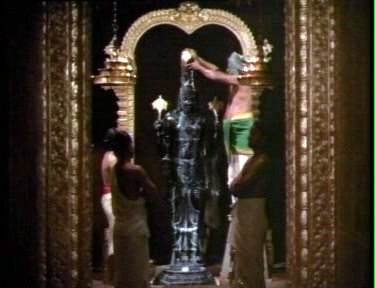 Abhishekam Seva at Tirumala
Abishekam is a sanskrit word for the celestial bath that is performed to the main presiding deity in any Hindu temple. As per tradition in Tirumala, Abhishekam Seva is performed on the pre-dawn of every Friday.
It will be performed from morning 3 AM which may long upto 2 hours. A team of 4-5 priests will perform the Abhishekam based on Vaikhanasa Agama.
All gold and diamond ornaments, clothing, are taken off from the presiding deity except a white loin, and a heavy gold necklace bearing a pendant with Sri Mahalakshmi's seated pose.
The abhishekam is performed by priests with water (brought from Akasaganga teertham), milk, curd, ghee, coconut water, honey, punugu thailam, turmeric, sandal paste etc.  Pancha Suktam – Purusha Suktam, Sri Suktam, Bhoo Suktam, Nila Suktam, and Santhi Vachanam   will be recited during abhishekam by priests.
Abhishekam is a paid seva and only limited number devotees will be allowed.
Gathering Point
Devotees should gather at Supadham
Abhishekam Seva Timings
Abhishekam Seva will be performed from 04:30 – 06:00 AM. Devotees should gather one hour before the Seva time at Supadham
Abhishekam Seva will be performed only on Friday.
Dress Code
Men should come in White Pancha / Dhothi with Shirt
Women should come in Saree with Blouse Or Punjabi Dress With Dupatta Or Chudidhar with Dupatta Or Half Saree.
How To Book Tirumala Abishekam Seva?
There are 2 ways to get Abishekam Seva ticket.
Register for lucky dip at CRO Office on Thursday before 12 PM. If you got selected in the lucky dip , you will be informed through SMS to collect the ticket.
This Seva tickets can be availed through high level recommendation letter. You need to submit the recommendation letter at JEO office, Tirumala . Once approved you will get an SMS and can collect the ticket at MBC 34.
For any info required on Abhishekam Seva, please leave your comments below. We will get back to you at the earliest.
Also Read Weekly Sevas in Tirumala