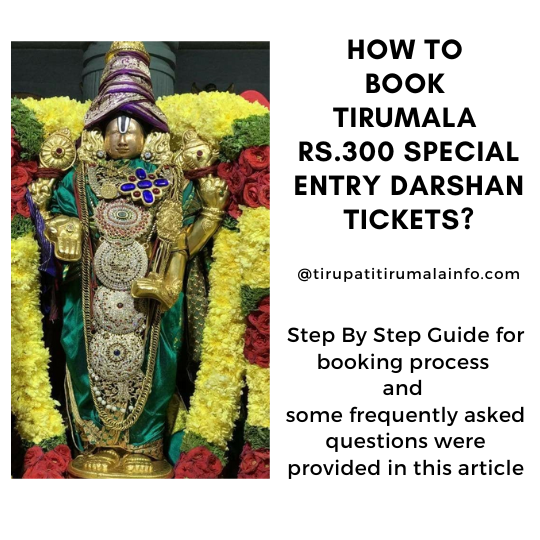 How To Book Tirumala Rs 300 Darshan Tickets
If you are planning to visit Tirumala then the best option is to book Special entry darshan / Seegra darshan / Rs.300 darshan tickets.
It will release in TTD Official website, before 3 months or 2 months.
Huge demand will be there for Rs.300 darshan tickets, better to book at the time of release only. sometimes darshan tickets may complete within an hour for the whole month.
Darshan will complete in 2 to 3 hrs.
Reporting place for darshan entry is ATC car Parking, Tirumala.
Steps to Book Tirumala Rs 300 Special Entry Darshan Ticket In Online
Open the booking link – https://online.tirupatibalaji.ap.gov.in/login?flow=sed
Screen timer (Virtual Queue) will come, dont refresh it. wait for next screen.
Enter your valid phone number, Captcha and click on 'Generate OTP' . You will get OTP to your phone number. Enter it to check for Rs.300 darshan chart availability. Please note that OTP Will not be delivered to Foreign Numbers. Currently system is supporting only Indian Phone Numbers.
From 1 phone number at a time you can book only for 6 persons.
We cannot use same phone number for next booking.
The calendar will open and you can select the date and timeslot of your choice. Green color indicates availability, yellow colour means slots are filling fast on that date. Red indicates that the quota is full and blue colour indicates the quota has not been released yet.
In next screen enter your ID proof details.
Finally in payment screen enter details for payment confirmation.
Once payment is done, you can download your tickets. If you miss to download the ticket, then visit this Link and enter the phone number which you have given earlier to book darshan ticket. Click Here
Can We Cancel Rs.300 Tickets?
Cancellation or Postponement is not possible. Once booked, its final and cannot be cancelled / postponed / preponed
Can Others Use my Rs.300 Tickets?
Tirumala Darshan Tickets are not transferable. Person mentioned in the ticket can only utilize the darshan ticket as the photo ID proof will be verified while allowing for darshan. If there is a mismatch in the person then he will not be allowed.
Can I Use the Rs.300 ticket on some other day Other than Booked Date?
Tirumala special entry darshan ticket booked for some specific date cannot be used on a different date unless TTD Permits it in advance ( like if there is any natural calamity then TTD will allow to use it on some other date, this is a rare case and same information will be published on TTD official website).
Ticket has to be used on same date for which it is booked. Else its wasted.