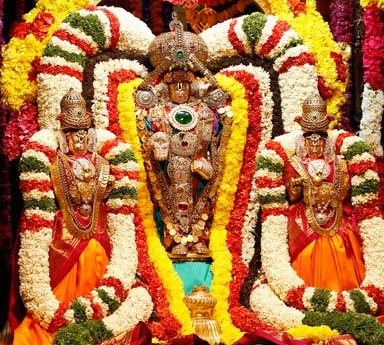 Dolotsavam
Dolotsavam is performed in the addhala meda (Mirror Hall) as it is popularly known. The hall is in Aina Mahal (Addala Mantapam) opposite Ranganayaka mantapam where Arjitha Brahmotsavam is performed. The Aina Mahal consists of mirrors on four walls and a central stage with a provision for unjal (Swing). Sri Malayappaswami, Sridevi and Bhudevi are seated in the unjal (Swing) and the deities are swung to the accompaniment of Veda parayanam and mangalavadyam.
What is the cost of Dolotsavam (Unjal Seva) Ticket?
Cost of one ticket is Rs.200 . One person will be allowed per ticket. Only 2 tickets can be booked per login. Kids below 12 years doesn't need any ticket. Darshan facility is available for this seva ticket holder.
Reporting Place & Timings
Unjala Seva will be performed from 1:30PM to 2:30PM. Devotees should gather one hour before the Seva time at Supadham entrance. The seva will be performed for half an hour. After performing the Kalyanotsavam, Unjala seva will be held. So timing is not fixed. It most probably happens at 2:30PM.
Dolotsavam Seva Online Booking
Unjala Seva can be booked online(Subject to availability).

For any info required on Unjala Seva, please leave your comments below. We will get back to you at the earliest.
Read More About Srivari Sevas