What is Virtual Seva At Tirumala?
Now TTD Allows the Pilgrims to participate in the Tirumala Seva's Virtually online, means seva will be performed by priests on behalf of the Pilgrims and the devotees need to watch the seva in SVBC TV Channel / Live in SVBC Youtube Channel. Priests will read out the Gothram's of the devotees who are participating on that day, while performing the seva.
These virtual seva tickets are also famously called as Tirupati darshan 500 rupees ticket.
The Best part about this is, pilgrims are entitled to get a Special Entry Darshan Ticket which is a special quota rather than the normal Special Entry Darshan Quota. Some times this special quota tickets will be available even if the normal Rs. 300 darshan tickets gets sold out. Its same like ttd darshan under Rs. 300 Special entry ticket, you will be allowed in the same queue line. You can select seva date in this month and darshan date in next month as well. 
Hope by now, you got an idea of What is Virtual Seva In Tirumala? You can continue booking the tickets by following the below Steps.
You can check the availability of Darshan tickets before booking the Virtual Seva.  Follow the Steps 1-7 listed below to check the availability of Special Entry Darshan tickets under this Virtual Seva Category.
What is Included in Virtual Seva Ticket?
It Includes 2 Things as Below
Virtual Seva – You need to watch the Seva in SVBC TV Channel at your home.
Special Entry Darshan Ticket – You need to Visit Tirumala Balaji Main Temple to have Darshan in Person. '
Only Seva Participation is Virtual, you can have darshan physically at Main Temple.
Tirumala Virtual Sevas list and Cost
| | |
| --- | --- |
| Seva | Cost |
| Kalyanotsavam | Rs.1000 for 2 Persons |
| Arjitha Brahmotsavam | Rs.500 per Person |
| Unjal Seva | Rs.500 per Person |
| Sahasra Deepalankarana Seva | Rs.500 per Person |
How to book Online Seva and Darshan Ticket – Step by Step Guide
Please note that below steps are written based on the availability status on the day the article is written, actual availability might change while you are reading the article, images are just for informational purpose only to help you with the booking process.
 Visit TTD Website – https://online.tirupatibalaji.ap.gov.in/home/dashboard and login with Indian Mobile Number and OTP.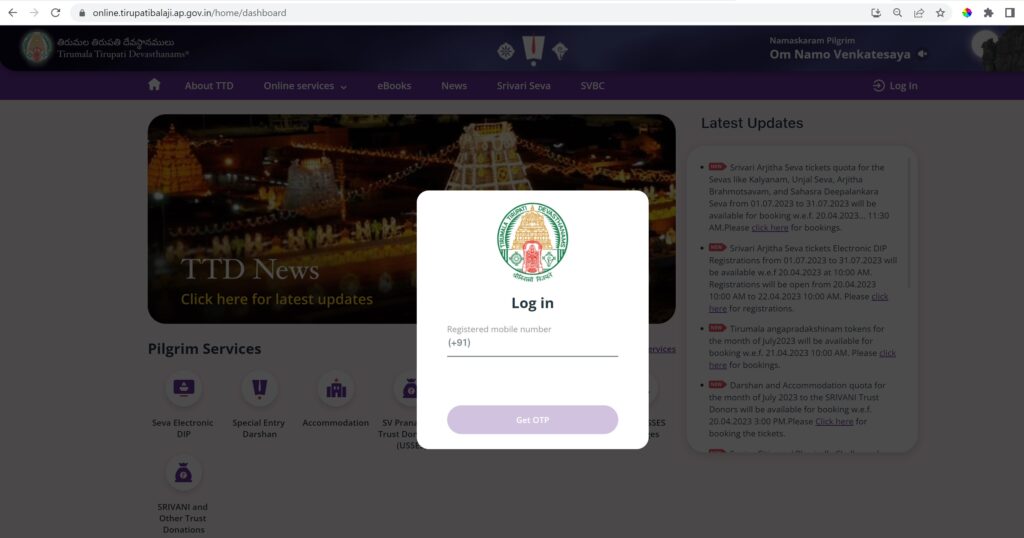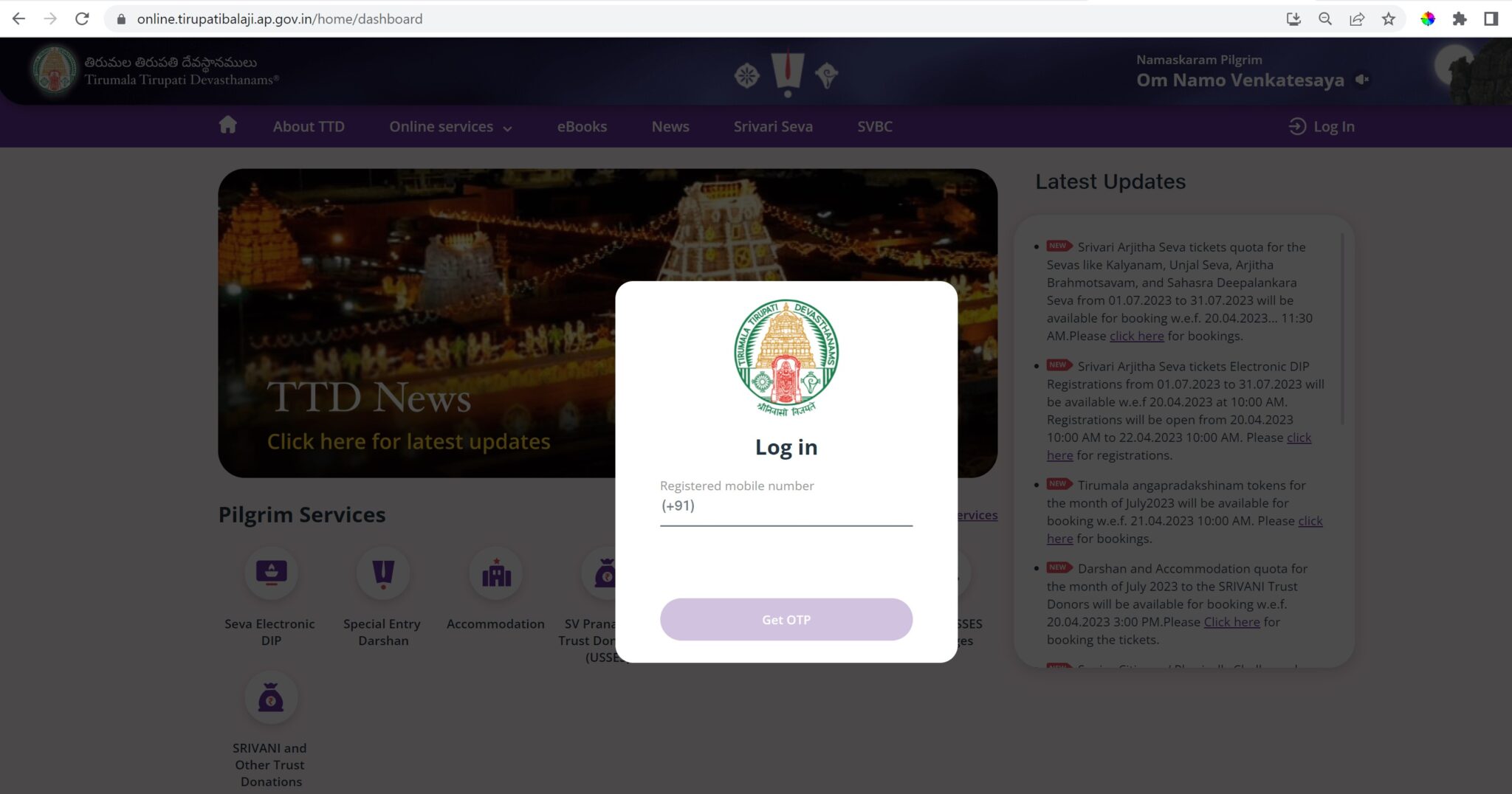 2. Select "Virtual Seva" Under Pilgrim Services


3. It will open old TTD Website. Login using your email and password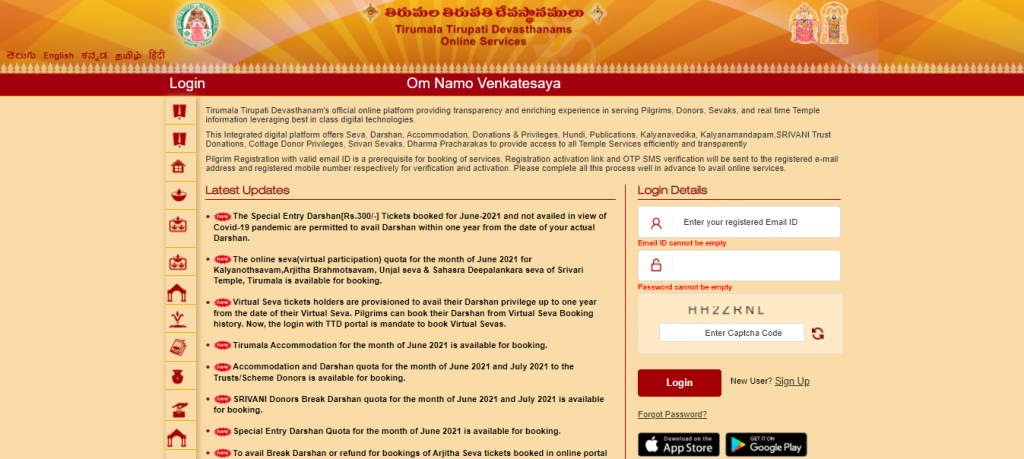 4. After Login Click on Hamburger Menu (3 Horizontal line on top right).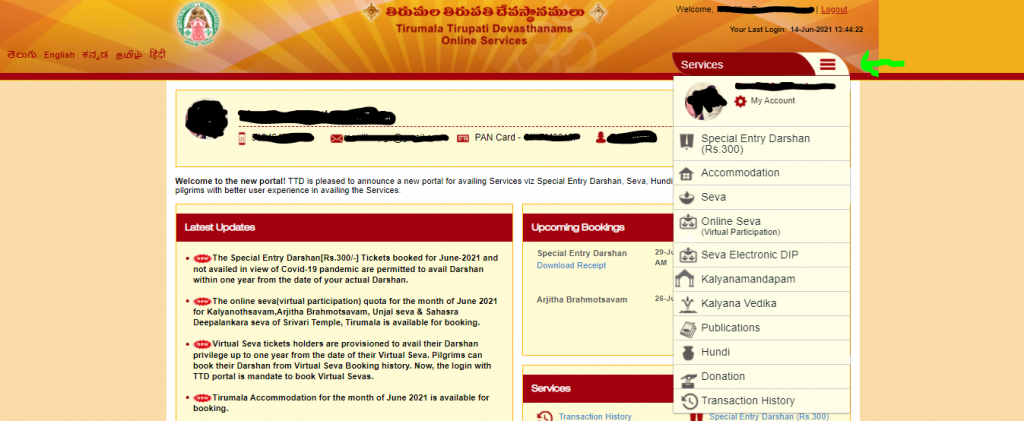 5. As shown in below screen Shot Hover on Online Seva Menu Item, then sub-menu will open. Select "Srivari Temple, Tirumala".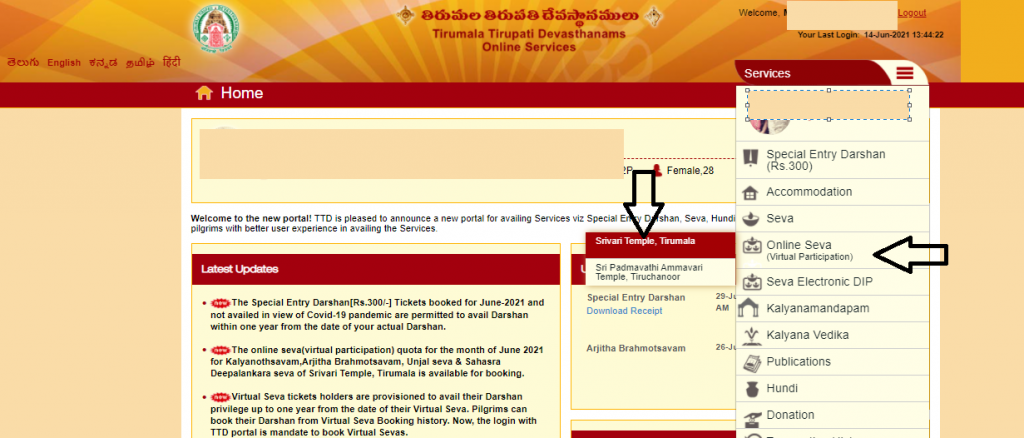 6. Agree to terms and Conditions by Clicking on Checkbox and Click on "Continue" to book the ttd seva ticket .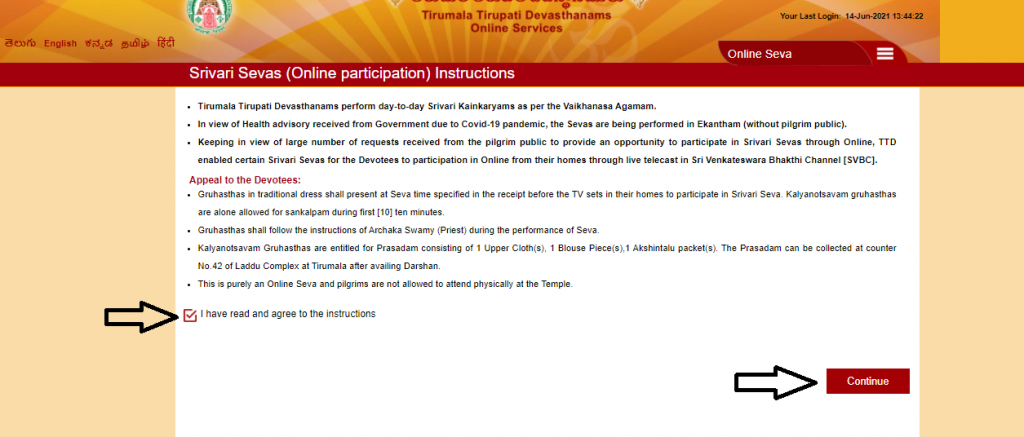 7. Select required seva from Dropdown. For Kalyanotsavam Seva, 2 persons are allowed and its Price is Rs.1000 per Ticket. For Other Sevas each ticket costs you Rs.500 per person, you will have a choice to select 1 or 2 tickets.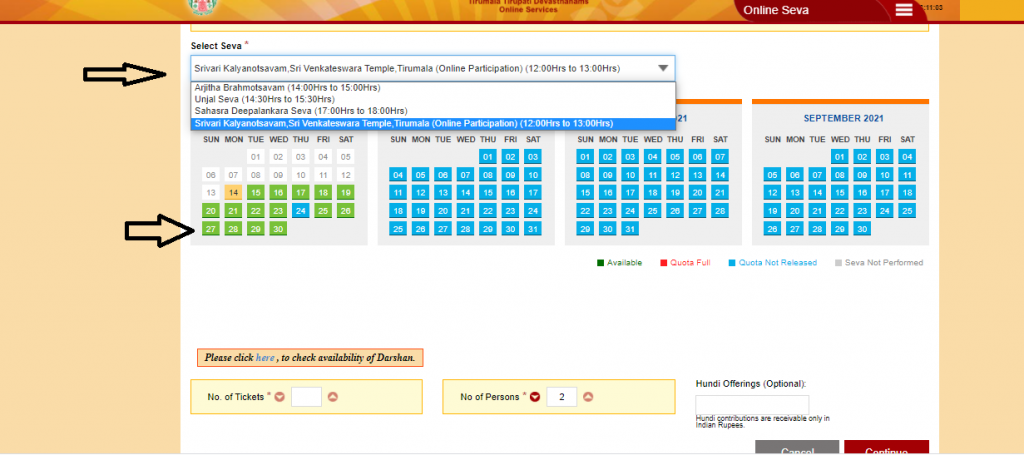 Below the Calendar, you can find the text  "Please Click here to check availability of Darshan", you can click there and it will show the Darshan tickets availability  under this virtual seva category, like below. (Darshan Availability calendar is just for information purpose just to check before making a payment for virtual seva tickets, close that Darshan Availability window, if opened by clicking on 'X' mark and continue with below mentioned steps)

8. Select A Date For Seva as shown below . After Date Selection you will get the available tickets and a small circle beside the Rs. 500 . Click that.
After that, if you want to change the number of tickets , then you can click the small up arrow as shown in the image , min. is 1 and max. is 2 tickets. Then Click "Continue"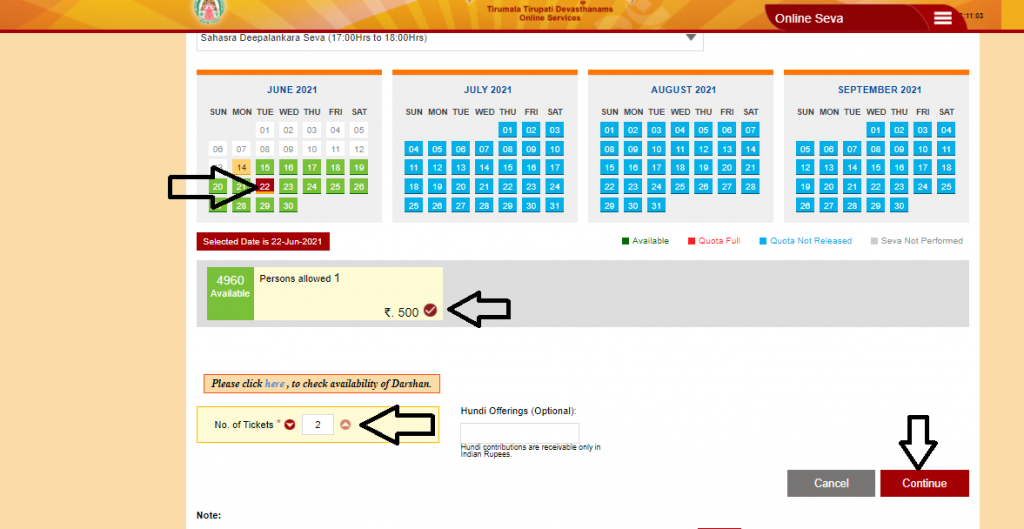 9. Enter the Pilgrims details like Name, Age, Gender, Select Aadhar Card and provide Aadhar Card Number, Gothram , Email Address and Mobile Number. Ensure the details are accurate.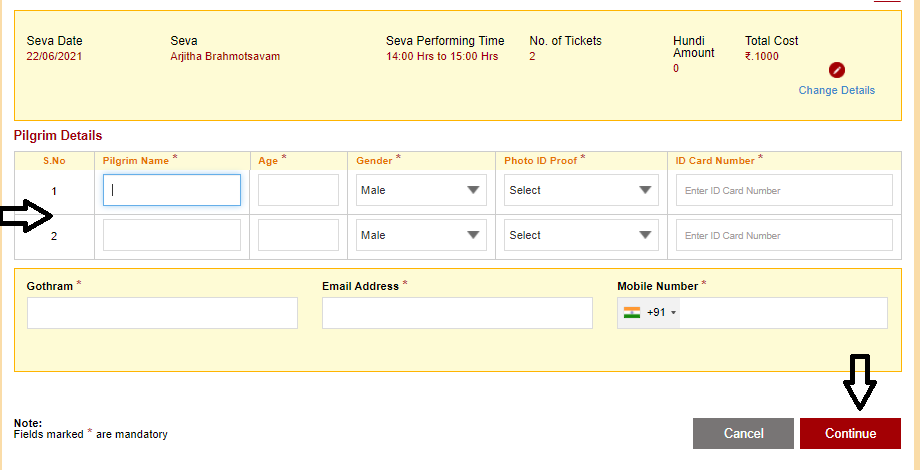 10. Select A Payment Gateway by clicking on the small Circle beside the Providers. Then Click the Pay Now Button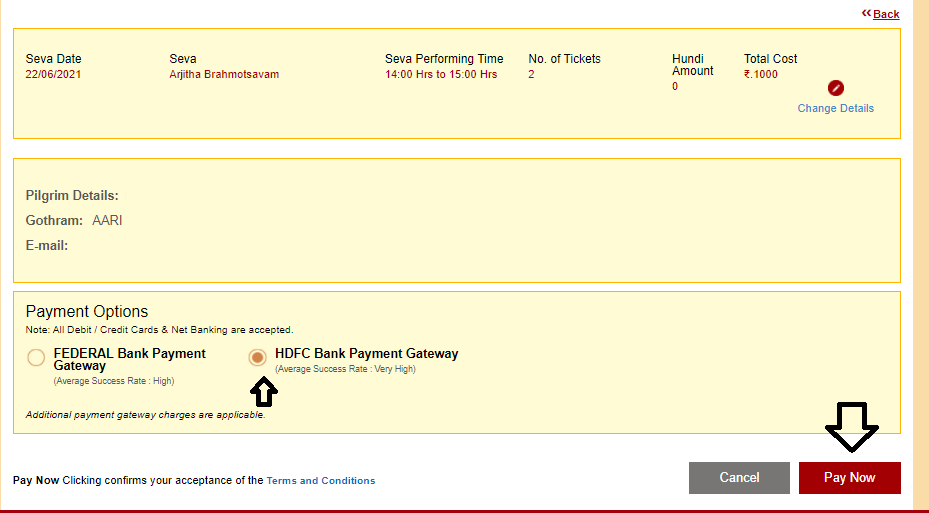 11. Please Enter the Card Details and Make Payment.
12. After Payment is successful, You will see a pop up like below which allows you to book the darshan ticket, click on Yes if you wish to book the darshan now itself. You can have the darshan once with in 1 year from the date of Virtual Seva. Even if you are not interested to go for Darshan now, you can book the darshan ticket later from the Menu -> Transaction History – > Virtual Seva -> Book Darshan Ticket.

13. Then You will see a Calendar like below with Darshan ticket Availability Status. This is a Special Entry Darshan Ticket that you will get with the Virtual Seva Ticket . No Need to pay any extra amount for this Darshan Ticket. Though this is as Rs. 300 Special Entry Darshan Ticket, this is different from the Normal Rs. 300 Special Entry Darshan Quota. Even if Normal Rs. 300  Special Entry Darshan Tickets are sold out for any month , you can some times get this ticket.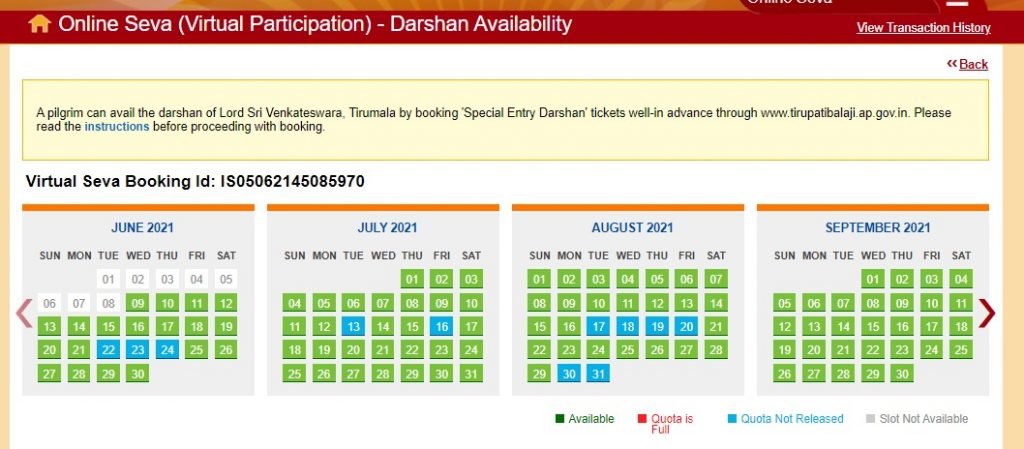 14. Select a Date and Timeslot For Darshan, you need to visit the Tirumala Balaji Temple on this date and time to have Darshan. Currently timeslots are issued from 9 AM to 7 PM.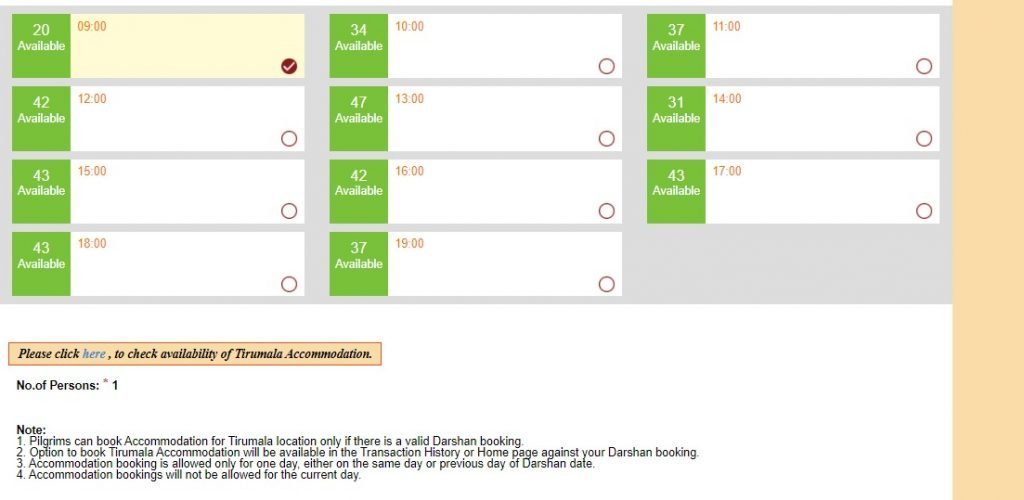 15. After selecting Date and Time slot, click Confirm to confirm your darshan ticket. Take a printout and visit tirumala on the selected darshan date.
Read About – How to Book Room in Tirumala –  Online / Offline