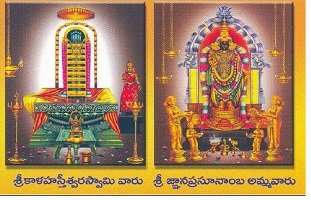 History Of Srikalahasti Temple
Srikalahasti is a temple town, where tradition, myth and folklore combine to form a vivid and vibrant outlook. Usually this sleepy locale in the Indian State of Andhra Pradesh is termed as a hurried stop en route to Tirupati.
Srikalahasti Temple is a predominant pilgrimage centre where the destroyer lord in the Hindu Pantheon is manifested as Vayulinga. The term Srikalahasti is a unique combination of three words Sri, Kala and Hasti, which stands for spider, serpent and elephant respectively. The name itself carries with it a legendary tale that narrates how these three animals obtained salvation with their ardent faith and devotion to Lord Shiva.
Apart from its religious significance, Srikalahasti is famous for Kalamkari paintings, its rich color combination and fine texture leaves indelible impressions on the onlooker. Srikalahasti  is located on the banks of the River Swarnamukhi. The Srikalahasti Temple is one of the important ancient Shiva temples of Southern India.
Distance:
It is located at 45KM from Tirupati Bus Stand.
Rahu Ketu Pooja:
Rahu Ketu Pooja is the famous ritual performed in Sri Kalahasthi . For More Details Please visit the below link
Rahu Ketu Pooja – Details and Timings
Arjitha Sevas:
| | |
| --- | --- |
| Sevas | Ticket Price |
| Suprabatha Seva | Rs.50 |
| Archana | Rs.25 |
| Sahasranamarchana | Rs. 200 |
How To Reach:
Accommodation At Sri Kalahasti