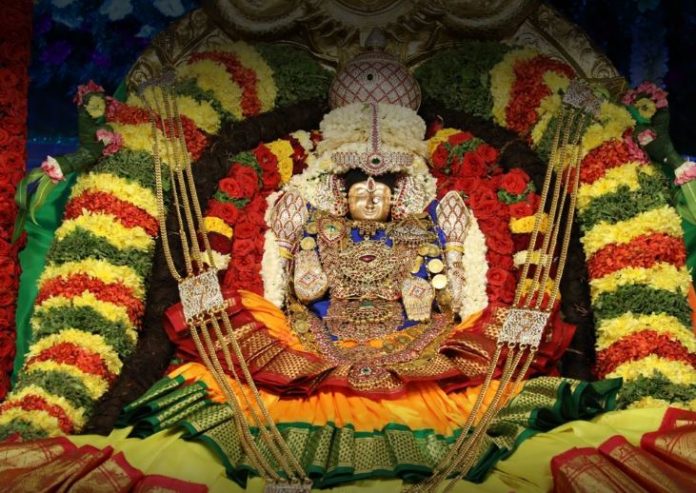 Pavitrotsavams at Tiruchanur Padmavati Temple
Pavitrotsavams at Sri Padmavati Devi Temple, Tiruchanur will Starts from September 18th 2021 and ends on September 20th 2021. Pavitrotsavam festival will celebrate in Ekantam as per Covid guidelines.
Koil Alwar Tirumanjanam at 7:30 AM to 9:30 AM on September 14th,
Pravitrotsavams Ankurarpana will be at 6 PM on September 17th,
Pavitra Prathista will take place on September 18th,
Pavitra Samarpana on September 19th and Mahapurnahuti on September 20th.
On the last day, Snapana Tirumanjanam will be from 3PM to 5 PM and Chakrasnanam will be in Temple Premises.
Virtual Participation for Pavitrotsavam
All the rituals and festivities will be live telecasted by the SVBC for benefit of devotees to virtually participate and get blessings of Goddess Padmavati Devi. TTD will shortly release tickets in online for booking.
Interested Devotees can book Virtual Paticipation Tickets on TTD website.
Ticket Cost is Rs.1001/- (for two persons).
TTD has decided to send Prasadam through India posts to the address of Virtual Participation Devotees.
They could also avail free Darshan through Rs.100/- Queue Line for two persons within 90 days.
TTD has cancelled the Kalyanotsavam and Unjal seva on September 14 (Koil Alwar Tirumanjanam), Kalyanotsavam, Unjal Seva and Lakshmi Puja on September 17 (Ankurarpanam) and Kalyanotsavam, Unjal seva & evening VIP break on all three days of Pavitrotsavams (September 18-20).