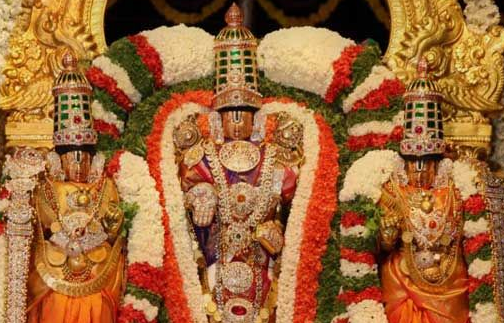 Samvatsarotsavas (Annual Ceremonies)
There will be utsavas for the Lord of the Seven Hills on certain special days in a year. They are called Samvatsarotsavas(Annual Ceremonies). Let us try to know about them in brief.
Besides the above, several annual utsavas like Narasimha Jayanthi, Sri Varaha Jayanthi, Ananta Padmanabha Chaturdashi, Chakratirtha Mukkoti, Kaishika Dvadashi, Karthika Deepotsava, Kshetrapalaka Utsava, Tiruvadipuram Utsava, Sri Vari Bagh Savari Utsava-Purushai tota Utsava are conducted in the Tirumala Lord's temple.
Devotees right from Creator Brahma down to common men and women conduct utsavas, uregimpus (processions), archanas, aradhanas as per their wishes to their full content. There will be one festivity or the other any time in Tirumala. That is why, teeming with large crowds Tirumala shrine is flourishing like anything proving the adage "Nitya Kalyanam Pachcha Toranam".
Throughout the year, there will be as many as more than 400 utsavas and sevas for the Lord of Seven Hills in the temple-small, big, open to all, or restricted to a few, Every day is a festival in Tirumala shrine.
Lord of Ananda Nilaya, it appears, is a lover of utsavas: and more than that lover of His devotees. It is not possible to measure the love He has for his devotees. He makes His visitors sponsor the utsavas, repay the vows and arrange for His processions. He rewards them in turn with endless series of auspicious things and good omens, Even if you are not able to pay for the utsuvas, it does not matter. It is enough if you witness the grandeur of utsavas. If only you have a glimpse of the Lord of Ananda Nilaya, you are sure to get eternal bliss (Brahmananda).