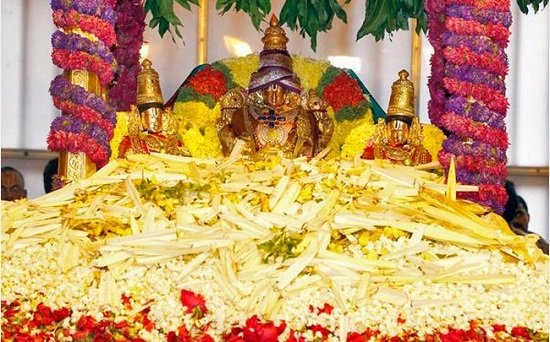 Pushpayagam
Pushpayagam is an Annual festival which is being celebrated on the day of Sravanam (Birth Star of Lord Venkateswara) in the month of Karthika(October / November) after Annual Brahmotsavam to Lord Venkateswara.
Ankurarpanam is done prior to the Pushpayagam. On this day, after conducting the daily pujas, Sri Malayappa Swami along with Sridevi and Bhudevi be seated on a special golden platform in Sampangi Mandapam. After offering Tirumanjanam to the Utsava murthies worship is being done to them with tons of varieties of flowers. Later procession takes place in the evening.
All flowers used for this festival should be fresh and fragrant. 'Vimanarchana kalpa' describes the flowers to be used for Pushpayagam: Jaji, Champaka, Vakula, Padma, Dvikarni, Attasi, Ketaki, Mallika, Mandara, Karavira etc. flowers are being offered to the Deities.
Pushpayagam Online Booking Website – https://tirupatibalaji.ap.gov.in
Read more about: Flowers used during Pushpayagam
According to the Agamas, performing Pushpayagam is equal to performing an Aswamedha Yaga, conferring good progeny riches, peace and finally moksha.
Steadfast Bhakti
The subsequent story of Anantalwan on the Venkata mountain offered flowers to the Lord from a garden maintained by him and his encounter with Lord Srinivasa in disguise has been made part of the Brahmotsavam of the Lord and become immortal. Ananthalwan was one of the most devoted disciples of Sri Ramanuja. On the instructions of Sri Ramanuja, Ananthalwan went to Tirumala to perform Kainkaryams (services) to the Lord Sri Venkatachalapati. There is an interesting anecdote which led him to go to Tirumala, even by leaving his Acharya at Srirangam.
Once Sri Ramanuja was delivering lectures on Tiruvaimozhi with the commentaries of Poorvacharyas. One day he was going through the Pasuram Ozhivil kalamellam udanai manni.Here Nammalwar describes Tirumala as "Sindu poomahizhum Tiruvenkatam", means Tiruvenkatam full of fragrant flowers. Moved very much by these words, Sri Ramanuja asked his disciples who had gathered there to hear his discourse, whether anyone was ready to go to Tiruvenkatam for Nandanavana Kainkaryam to the Lord there. Almost all the disciples remained silent as they did not want to leave the personal association with the Acharya and his discourses on Tiruvaimozhi. However Ananthalwan, as a true disciple, in word and spirit, stood up and humbly stated that he was prepared to go to Tirumala for the
Kainkaryam, if the Acharya so desired. Acharya was very much pleased at the spontaneous acceptance of Ananthal wan and gave him permission accordingly. The devoted disciple immediately took leave of the Acharya and left for Tirumala. On arrival there he went to the Temple, prayed before the Lord and then set up a garden and a tank to offer floral, Tulasi garlands to Lord Srinivasa in keeping with the belief that Tirumala is the 'Pushpa Mandapan'.
Anantalwan is an ardent devotee of Lord Srinivasa and he digged a garden named as 'Anantalwan thota'. Here Nandavana Kainkaryam (growing flower plants in garden and offering garlands) to the Lord is being done there.
Pushpayagam to Lord Venkateswara with Colourful, Fragrant flowers is an Eye feast to Devotees. Visit and have a Glimpse:)