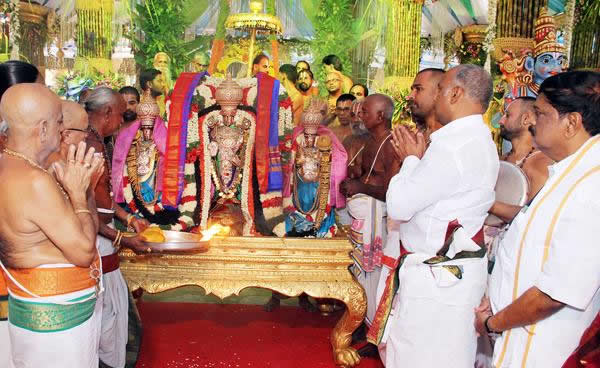 Sri Padmavathi Srinivasa Parinayam
The grand celestial wedding of Lord Srinivasa and Sri Padmavathi Devi in Tirumala is called Sri Padmavathi Srinivasa Parinayam(Parinayotsavam). This utsava is celebrated for three days Vaisaka Sudda Dasami. Puranas like Padma Puranam, Varaha Puranam, Garuda Puranam, Brahmanda Puranam, Markandeya Puranam, Markandeya Puranam, Harivamsam etc., describe in detail the antecedents that led to the divine wedding.
 Legend
Irked by the unforgiving act of Brigu Maharshi, Sri Mahalakshmi left Srivaikunta for Bhooloka followed by Sri Mahavishnu. Lord Mahavishnu came to Seshachalam where he was brought up by Vakula Devi who was the reincarnation of Devi Yashoda of Krishnavataram. Sri Mahalakshmi was named Padmavathi and brought up by Aakasa Raja.
Read About – Sri Padmavathi Ammavari Temple
The puranas tell us that Sri Mahavishnu appeared at Lord Srinivasa at Tirumala in Kaliyuga for bestowing His blessings on the devotees of this yuga, who are steeped in materialistic pleasures and have lost their peace and spiritual strength and for instilling in the minds of His devotees the moral values of married lift, He wedded Sri Padmavathi.
To celebrate the divine wedding of Lord Srinivasa with Padmavathi Devi, Sri Padmavathi Prinayotsav will be conducted very elaborately in Tirumala on three days in Vaisaka month every year. Like other Annual utsavas like Bramhotsavam, Teppotsavam, Vasanthotsavam, Pavitrotsavam etc., this Parinayotsava is an important Annual Utsavam.
Parinayotsavam in Tirumala
Each morning of the three days , Lord along with His consorts accompanied by Mangala Vadyas, vedic chanting and other paraphernalia, reaches Narayanagiri Udyana Vanam the venue of the heavenly wedding.
The tastefully decorated huge wedding hall and the wedding platform by their grandeur and magnificence magnetize the devotees who gather there to witness the celestial wedding.
Three day Festival
On the first day of the three days festival, Lord Malayappa, the bride groom arrives on a Gaja Vahana on the first day, on Aswa vahana on the second day and on Garuda on the last day. Both Sri Devi and Bhu Devi follow the groom in a palanquin and after the wedding ritual, all the three deities retrun to the temple.
On arrival, the brides and the bridegroom will be faced each other, when wedding rituals commence. Poomala marpu (exchange of garlands), Vastra Chativimbu ( presentation of new wedding Vastras), Pooppanthatta ( frolic with flower balls), Venchepu (both brides and the groom appear together) are some of the colorful ceremonies which enliven the utsavam. By paying specified amount to the TTD, devotees can witness the wedding ritual.
The TTD takes special care in celebrating the celestial wedding of the divine couple with colorful and pleasing decorations of the hall and wedding platform, cultural performances and other arrangements helpful to the devotees. All the colorful decorations and wedding ritual give the devotees not only a divine ecstasy but instill in their minds a sense of fulfillment and joy.