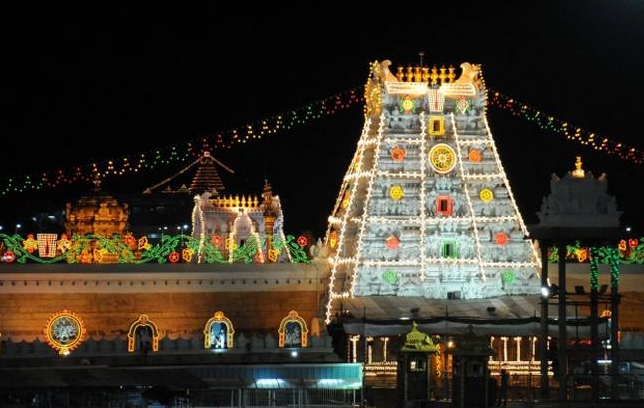 Bramhotsavams At Tirumala
Although many utsavas are conducted for the Lord throughout the year, the Brahmotsavams at Tirumala which take place for nine days a year assume greatest prominence in the history of Tirumala.
At the instance of Brahma and other gods and goddesses, Sri Venkateshwara manifested Himself to protect the humanity in Kali Yuga on the day of Shravana star in Kanya Masam to give credence to the adage, "Kalou Venkata Nayakah". Brahma Himself conducted utsavas for nine days ending on the day Lord's self-manifestation. Since Brahma Himself conducted these utsavas to Sri Venkateshwara, direct manifestation of Para Brahma, these acquired prominence as Brahmotsavas.
In the course of time later, several queens organized Brahmotsavas to Tirumalesha.
It is said that in 614 AD Pallava queen Samavai presented the idol of Bhoga Srinivasa Murthy to Tirumala and ordained for His procession before the Brahmotsavas in Kanya Masa.
Till 1583 Brahmotsavas were conducted almost every month, for example, in the name of Pallava king Vijaya Ganda Gopala Deva in the Chaitra masa in 1254 AD, in the name of "AdibTirunallu" by Tribhuvana Chakravarthi Tiruvenkatanatha Yadava Rayalu in the Ashadha masa of 1328 AD, in the name of Veera Prathapa Rayalu in the Ashvayuja masa of 1429 AD, in the name of "Masi Tirunallu" by Harihara Rayalu in 1446 AD, and in the name of "Achyutha Raya Brahmotsavas" by Achyutha Raya in 1530 AD.
In due course, though the utsavas instituted by those kings and kingdoms stopped, but the utsavas commenced by Brahma continued to be conducted till now for nine days.
A day before in the evening, there will be Ankuraarpana (beginning), mrutsangrahanam (collection of soil) by the Lord's Commander Vishwaksena. The next day happens to be the day of Dhvajaarohana.
On this day, the flag of Garuda is hoisted on the golden dhvaja sthambham inviting the residents of all the worlds to the utsavas. Silk clothes are presented on this day on behalf of the government of Andhra Pradesh.
| | | |
| --- | --- | --- |
| Day | Morning | Evening |
| 1 | Dhvajaarohanam | Pedda Shesha Vahanam |
| 2 | Chinna Shesha Vahanam | Hamsa Vahanam |
| 3 | Simha Vahanam | Mutyapu Pandiri |
| 4 | Kalpa Vriksha Vahanam | Sarva Bhupala Vahanam |
| 5 | Mohini Avataram | Garuda Seva |
| 6 | Hanumad Vahanam | Golden Chariot, Gaja Vahanam |
| 7 | Suryaprabha Vahanam | Chandraprabha Vahanam |
| 8 | Rathotsavam | Ashwa Vahanam |
| 9 | Chakra Snanam | Dhvajaavarohanam |
#About The Divine Vahanams of Lord Venkateswara Swamy
The garland worn by Goda Devi from Sri Villi Puttur and new umbrellas from Chennai reach Tirumala. Malayappa adorne with all these goes in procession on the golden Garuda. Lakhs of people witness the spectacle.
There will be two Brahmotsavas for Tirumalesh in a year with adhika masa, one in Kanya masa and another in sharannavaraatris.
Read About Annual Ceremonies at Tirumala