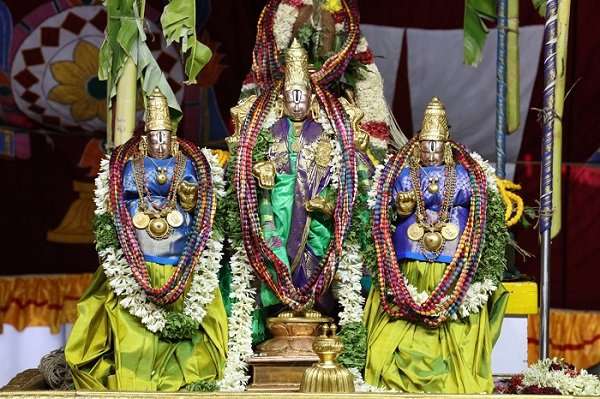 Pavitrotsavas at Tirumala
As per the Vedic tradition, one is not supposed to enter the temple with jatashoucham (impurity due to birth of offspring) and mrithashoucham (impurity due to death of close relatives). But sometimes, this rule is violated knowingly or unknowingly by the tourists and staff. Purification ceremony that takes place in order to dispel the evil of such lapses is called Pavitrotsavas at Tirumala. It is different from the general purificatory programmes like temple cleansing or punyahavachanam (purification through mantra). This festival is known as "Festival of Purification".
There is evidence to suggest that Pavitrotsavas at Tirumala were conducted till 15-16 centuries in Tirumala. It stopped abruptly later. The temple has restored the practice since 1962. It takes place for 3 days.
It takes place every year in the Kalyana Mantapa during Shravana shuddha dashami, ekadashi and dwadashi.
First Day of Pavithrothsavam
On first day of Pavithrothsavam, Homam is performed followed by Snapana Tirumanjanam (celestial bath) to the processional deities with sandal, turmeric, milk, curd and honey etc. In the evening the processional deities are taken out for a ride around the four mada streets, blessing pilgrims who converge to witness the grandeur of Lord Malayappa Swamy, draped in dazzling Gold and Diamond jewels.
Second Day of Pavithrothsavam
On the second day, after Snapana Tirumanjanam (the celestial bath) a special puja is performed to the woven sacred silk threads called 'Pavithrams', they are the sanctified threads. A unique aspect of this thread is that it is made up of five colors i.e. black, blue, red, yellow and green. 'Pavithrams' will be tied around the head, neck, waist etc. of the Lord. They are also tied to various deities inside the temple and inside the prakaram including Ananda Nilaya Vimana Venkateswara Swamy, Yoga Narasimha Swamy etc. These holy silk threads are woven out of a special variety at high quality cotton.
Third Day of Pavithrothsavam
On the third day removing of garlands, the sacred Homam is performed followed by Snapana Tirumanjanam, followed by rituals like Visesha Samarpana, procession along four mada streets and concludes with purnahuthi(Final offering to the sacrificial fire of a coconut, nine kinds of grains, five precious metals, betel leaves, sandal wood sticks, etc. bundled in a silk cloth while chanting specified mantras) which takes place inside the main temple. By this the Pavithrothsavam ritual will complete.
Devotees can participate in Pavitrotsavas at Tirumala on payment of required fees. The participants will be purged of the offences committed against the gods knowingly or unknowingly by any of their progeny. Peace and prosperity prevail in their lives.
Also Read Annual ceremonies at Tirumala