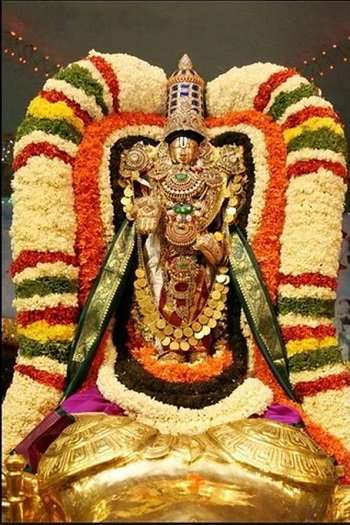 Offering Tonsure To Swamy
The primary vow of all the devotees who visit Tirumala is tonsure. Irrespective of their age and gender, all men and women, young and old, married women or widows, saints and ascetics offer their tonsure to the Lord. While some offer their tonsure completely, some offer three cuts of their hair. Though it is not clear when this practice started, it is said it was there since the early 19th century. The Lord takes your twisted locks of hair and clears all the tangles of your woes. The place where you can offer your hair or get tonsured is known as Kalyana Katta.
Other Offerings to Lord Srinivasa At Tirumala
Some devotees conduct utsavas for the Lord; some offer services; some offer flowers, while some others ornaments and jewellery. Sri Krishna Devaraya, the emperor of Vijayanagara visited Tirumala seven times during 1513 and 152. He offered different kinds of vows to the Lord to mark  his victories by the grace of God. He presented to the Lord the nine-gemmed crown (kireetam), 25 silver plates, invaluable diamond ornaments, crowns as the crocodile-shaped arch (makara toranam) for the processional deities, and golden bowls for ablutions. In addition, he arranged for gold-plating of the tower of Ananda Nilayam. Later, many emperors like Achyutha Raya, Venkatapathi Raya offered several vows to the Lord of the Seven Hills, the Emperor of Emperors.
Some devotees offer different kinds of food to fulfil their vows. To keep their vows, some take a walking tour to the hill. Some offer all the ornaments on their bodies (Niluvu dopidi). Some offer the money promised as a vow. Some undergo tulaabhara and offer valuable material equivalent to them in weight. Some circumambulate the temple; some do it rolling their bodies on the floor. Some light the lamps uninterruptedly (akhanda deeparaadhana). Some break coconuts. Some offer raw flours (chali pindlu). Some offer tamarind rice and sweet rice. Those, who beget children by the grace of the Lord, offer gold or silver swings (ooyala).
In Offerings to Lord Srinivasa, Some offer elephants, horses and oxen that the procession of the Lord in different utsavas. The King of Mysore offered elephants to the Lord in the past and the Karnataka government continues to offer the same now. Some manufacturers offer their first products like lorries, cars and scooters to the Lord.