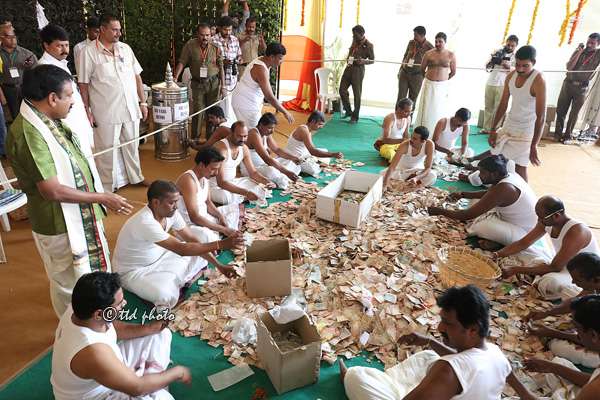 Parakamani Seva at Tirumala
Parakamani Sevaks will be counting the amount and segregating the offerings made by the devotees in Hundi at Tirumala Srivari Temple. Devotees can opt for 3 days Seva or 4 days Seva at the time of Online registration.
Eligibility for Parakamani seva at Tirumala
Working or Retired Employees of Central Government, State Government, Quasi Government, PSU, Insurance and Banking Sectors.
This Seva registration is allowed for Andhra Pradesh, Telangana, Tamilnadu, Karnataka and Kerala devotees.
Only Male devotees without any health problems, mental stability are allowed.
Age should be in between 35 years to 60 years.
Only Hindus are allowed.
Dress Code is White Pancha and White Banian.
Devotees in Ayyappa Mala, Govinda Mala or any other deekshas are not allowed for participation due to security issues as they have to undergo frisking on daily basis.
Benefits:
Devotees can have Darshan on the last day of the slot.
3 Subsidized Small Laddu Tokens each of Rs.10 will be given to the devotees on the last day of the Seva.
Online Registration For Parakamani Seva at Tirumala:
For online registration to Parakamani Seva, click on the below button.
Also Read about Srivari Sevaks