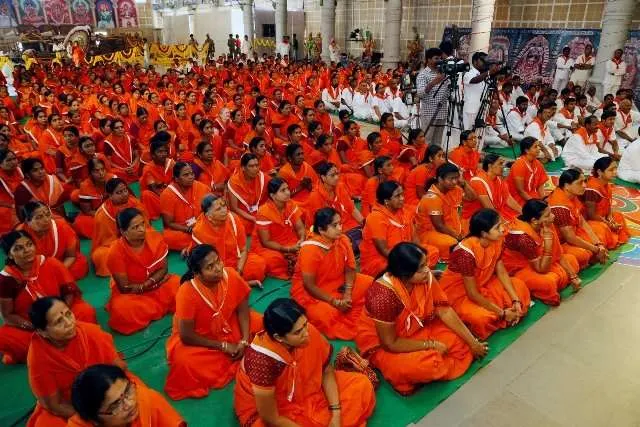 Srivari Sevaks
A group consisting of not less than 10 members is eligible to rendering Srivari Seva for seven days.
The members should be spiritually motivated to offer selfless service. Both men and women can participate. Only Hindus are permitted for Srivari Seva.
Interested voluntary groups can send their requisition letter containing the name, address, age, sex profession and stamp size photograph, telephone no etc., of each participant to the Public Relations Officer, TTD Administrative Building, K.T.Road, Tirupati-517501 at least one month in advance.For further details contact Ph. No. 0877-2263544, 0877-2263293.
Those who want to participate in Srivari seva can register through online and they have to link through the website "http://srivariseva.tirumala.org/".
Presently Srivariseva allotment will be done for 7 days / 9 days / 10 days / 11 days.
Those who are coming for Srivariseva must bring their original Adhar card and zerox copy compulsorily. Sevaks who donot have their Adhar cards will not be given seva.
The respective team leader / co-ordinator is requested to produce the total information about the volunteers to the Srivari Seva Sadan, Tirumala.
The Sevaks must be in the age group between 18 and 60 years only.
sevaks are advised not to bring children, aged and sick people along with them. If any body bring the children and old age people along with them, such volunteers are not allowed for seva.
Team leaders who are coming for Srivari seva must bring familiar persons to them. Team leader will be held responsible for the mistakes done by the team members if any.
Team leaders must take care of the responsibilities of their members till they reach their native place.
They should report to the A.E.O./Officer on Special Duty at Srivari Seva Sadan, Inside RTC Bus stand, Tirumala on their arrival as per the dates mentioned in the order, between 10 a.m. and 5 p.m.
Free Accommodation will be provided to the sevaks. For women at PA.C. III and for men at Sevasadan residing in Tirumala R.T.C. Bustand complex. Sevaks are requested to bring their own lock and Keys for locker.
Duties will be allotted at Srivari Seva Sadan by giving LD. cards. Sevaks should perform duty at least for 6 hours daily.
Sevaks must participate in the Bhajan, Satsang and training classes daily between 9 & 10 a.m. and 6 & 7 p.m. Sevaks performing their duty in the morning session should attend the classes in the evening and those who are posted in the evening session should attend the classes in the morning.
Please wear Srivari Seva scarves while on duty.
Always chant 'Govinda' and address everyone as 'Govinda'.
Srivari Seva is purely a voluntary Service to extend help to the visiting pilgrims. No need to pay either in cash or kind to any team leader or any employee for seva.
Every Srivari Sevak should put the Thirunamarm / Tilak or Vermilion/ Chandanam bottu to identify as Hindu.
Srivari volunteers should perform Srivari Seva with utmost service to the devotees as they are Lord.
Srivari sevaks must perform their duties whichever place is allotted. Temple duty is not compulsory. Don't pressure them to allot duty in the temple.
Keep toilets clean in the Srivariseva Sadan and at P.A.C. III. Don't waste water and electricity.
Men should not wear shorts and women should not wear Nighties (night dress) in the night times in the Amenities complex.
If any volunteer violates the rules against Srivariseva are not allowed for seva for 2 years.
The activities done by the Srivari sevaks (Sevasadan and P.A.C's) are supervised by Srivariseva co-ordinators (2 or 3). Kindly co-operate them.
DRESS CODE
Men: White (Shirt or Kurta, Pant or Dhoti or Paijama).
Women: Orange colour saree with Maroon border and Maroon bordered blouse (or) Orange colour Kurta, Maroon colour paijama with Maroon colour chunney.
Read About Offering of food to Lord venkateswara swamy