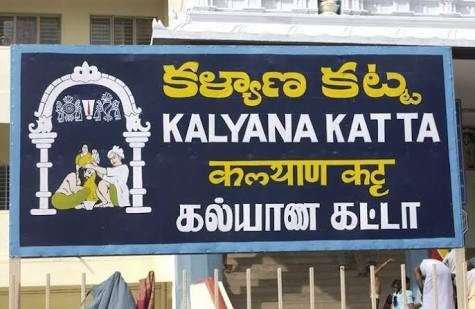 It is quite natural for the pilgrims to secure accomodation first, soon after reaching Tirumala. The facilities of accommodation are of different kinds-Free accomodation, rented accommodation or residing at Matas etc. After securing accommodation they walk towards 'Kalyanakatta' and get their heads tonsured, give 3 scissors of Hair or 3 fists of hair as their vow-offering.
Kalyanakatta
Tonsuring at Tirumala is free of Cost.
TTD will provide sterilized blades for free.
You can have bath after Tonsuring in the common washrooms with hot water facility at each location.
There is no online booking for Kalyana katta, you can visit any of the below mentioned locations and can get your head tonsured in 10 – 15 Minutes.
10 Hair Offering Locations In Tirumala
Main Kalyanakatta Complex
Sri Venkateswara Rest House(SVRH),
Sri Padmavathi Rest House(SPRH),
HVC,
GNC
Pilgrim Ameneties Complex-1(PAC1)
Pilgrim Ameneties Complex-2(PAC2),
Nandhakam Rest House(NDRH),
Kousthubham rest House(KTRH) and
Sapthagiri Rest House(SGRH).
Kalyanakatta Location and Hair Offering Timings in Tirumala
| | |
| --- | --- |
| Location | Timings |
| Main Kalyakatta (Near Agilandam) | 24 Hrs |
| PAC1 (Opposite To Tirumala Bus Stand) | 24 Hrs |
| PAC2 (Opposite To Tirumala Bus Stand) | 24 Hrs |
| SPRH | 24 Hrs |
| SVRH | 24 Hrs |
| GNC | 3 AM to 9 PM |
| NDRH ( Back Side Of Vengamamba Annadanam Complex) | 3 AM to 9 PM |
| HVC | 6 AM to 6 PM |
| KTRH | 6 AM to 6 PM |
| SGRH | 6 AM to 6 PM |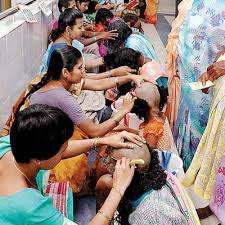 History Of Kalyanakatta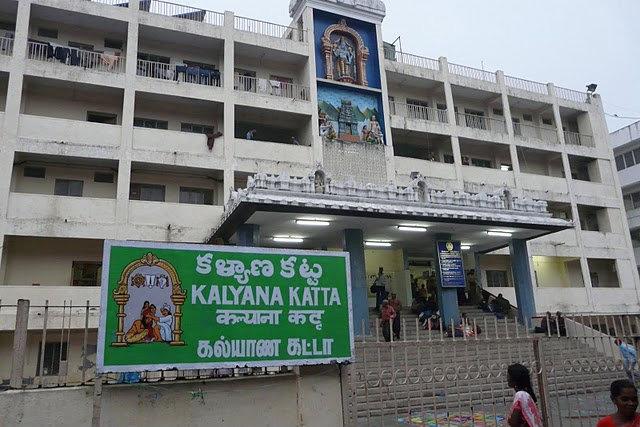 The compound word 'Kalyanakatta, is a strange one. This kind of name is not prevalent in any other temple. The common usage in Tamil is Mudi seluttuvadu but in kannada it is Mudi Samarpane. Telugu people say that it is the submission of hair offering. The place of submission is called 'Kalyanakatta'. There are two reasons for naming it.
The river that is near by Srinivasa Mangapuram is 'Kalyani'. On the banks of kalyani there were barbers platforms. The devotees coming through this way used to submit their hair, and take their bath in kalyani. After forming a group they used to go to Tirumala via Sri Vari Mettu, another pathway to Tirumala.
The route of Sri Vari Mettu dates 1000 years back. While Immadi Narasimharayulu was constructing Chandragiri Fort, this route was in vogue. Then the name of this route was "Sri Pati Mettu". At present the devotees are going to Tirumala through this route. There is one more Pathway called Alipiri.
'Kalyanam' in Buddhism reveals the renunciation state. Giving up Egoism is necessary for any man. The hairs grow on the head. Removal of growing hair has become important. That too the thoughts of good and bad are related to the head. They come out in a haphazard manner. The elders say that the submission of hair-offering is like the removal of weeds from the crop. There is a tradition of offering the head in Veera Bhakti and Tamasa Bhakti.
In course of time the submission of hair offering stood in place of the head Getting Tonsured is the tradition still in vogue. In submission of the hair, won't agree the cutting off of hair by scissors and keeping the mustache as it is. As Tirumala is a sacred place, there are no restrictions of Tithi, Vara, Nakshatra, Masa for submission of the hair like wise there are no differences of day, noon and night. Some of the devotees even today observe the tradition of submitting the hair of their children before completing one year of age.
Padma Purana says:
"Teerthopavasah Kartavyah Siraso Mundanam tatha
Sirogatani Papani yanti Mundanatoyatah"