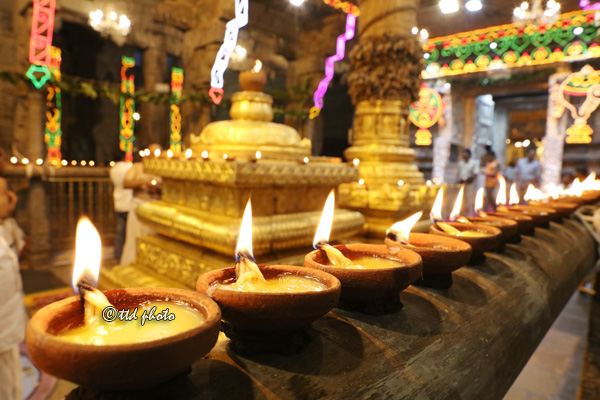 Karthika Parva Deepotsavam In Tirumala on 7th December
TTD will grandly organize Salakatla Kartika Parvadeepotsava on 7th December at Tirumala Srivari Temple. On the full moon of Kartika maasam, this Deepotsavam is performed after the evening Kainkaryas and Nivedanas are completed.
On this occasion, from 5 pm to 8 pm, lights are lit with nethi wicks, Chhatrachamara and mangal instruments are performed in a procession and Vimana Pradakshina is offered at Anandanilayam.
Then in the sanctum sanctorum Akhandam, Kulasekharapadi, Ramulavarimeda, Dvarapalaku, Garudalvaru, Varadarajaswamy sannidhi, Vakulamata, Bangarubavi, Kalyanamandapam, Sabhaara, Tallapaka Ara, Bashyakarla Sannidhi, Yoganarasimhaswamy, Vishvaksena, Chandnayaramana, Parimalam Ara, Vendivakila, Dhwajakshapalam, Sannithakasthakalam, Balishatram.
Lamps are installed at Mandapam, Poola Bavi, Ranganayaka Mandapam, Mahadwaram, Bedi Anjaneyaswamy, Srivarahaswamy Temple, Swami Pushkarini.
TTD cancelled the Sahasradipalankarana seva at Srivari temple.
Pournima Garudaseva will be held on the occasion of Kartika Pournami on 8th December. Between 7 and 9 o'clock in the night.