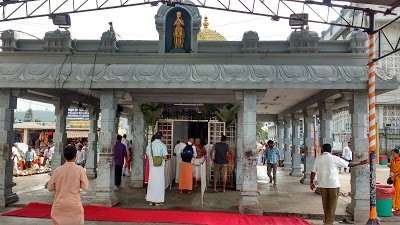 Bedi Anjaneya Swamy (Hanuman with handcuffs)
Just opposite to Srivari temple in Tirumala there is Anjaneya Swamy on the mound. This swamy is called Bedi Anjaneya swamy. There is a story that Sri Rama met Hanuman for the first time here. There is another story that Hanuman being mischievous was put in fetters by his mother. Pilgrims pray to Anjaneya Swamy to have the darshan of swamy as a part of their prayer. That too, He is Aradhya Daivam for the followers of Dwaita but for Visishtadvaitas 'periyattiruvadi' and for Outtarahulu he is Paurushavatara Murthy. The household deity Swamy stands on the mound to say that the devotees are greater than Himself. Swamy is Venkata Rama. So the presence of Hanuman is Anwarthakam. Annamayya eulogized swamy in many ways.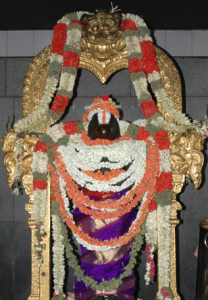 Govinda Rajacharyulu in the premises of the temple wrote commentary on Srimadramayana in the name of Govinda Rajeeyam. For every Brahmotsavam the clothes will be taken to swamy from here as per the Govt. gifts.
Hanuman handcuffed appears in this temple with folded hands in a posture of paying obeisance to the Lord. There is Akhilandam or Akhandam(unending flame) in front of the temple. Devotees break coconuts at the Akhandam to offer their vows, after paying a visit to the Lord.
PC : TTD Photo