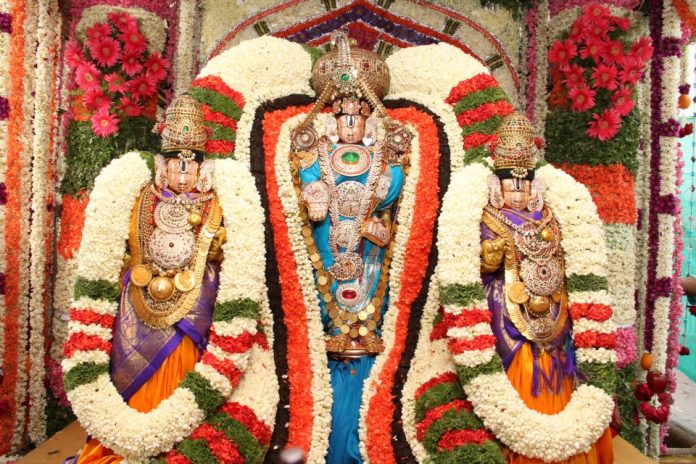 Kalyanotsavam Seva Process
Srivari Kalyanotsavam is performed to the Utsava Murti – Lord Sri Malayappa swami (instead of the main deity) and his consorts Sridevi and Bhudevi. A purohit conducts the marriage and an archaka is consecrated to perform other rituals on behalf of the bridegroom. The wedding ceremony is held according to Vaikhanasa Agama rituals and starts with the Panchamurthi Puja.
This is followed by recitation of Vedic mantras and pronouncing the family pedigree of the brides and bridegroom. The idols of the Lord and his brides face each other with a tera (screen) in between them. After the priests perform appropriate homas, the bridegroom and the brides are allowed to see each other at the appropriate auspicious moment as the screen is removed. This is followed by Mangala sutra dharana, Talambralu and then Lord and his consorts are garlanded.
The practice of Kalyana utsavam started in 1536 AD when Tallapakam Tirumala Ayyangar got the idea of celebrating the marriage festival of Lord Malayappa swami and the ceremony was conducted over five days in the Tirumamani mandapam in the main temple premises.
This Seva is not performed on important festivals like Srivari Brahmotsavam, Pavitrotsavam, Pushpayagam etc. and on the days of solar and lunar eclipses. The duration of the seva is about one hour.
What is the Cost of Kalyanotsavam Seva Ticket?
Ticket cost of this seva is Rs. 1000. Any 2 adults and children below 12 years will be allowed per one ticket.
Tirupati Kalyanam Timings & Reporting Place
This Seva will be performed from 10:30AM to 01:30PM. Devotees should gather one hour before the Seva time at Supadham. Ticket Print out (Hard Copy) and photo ID proof in original need to be carried.
Tirupati Kalyanotsavam Tickets Availability
Please click on the below button to check Kalyanotsavam Seva Tickets Availability


TTD Kalyanotsavam Seva Booking
Ticket Price of Seva is Rs.1000
This Seva can be booked online(Subject to availability). Book Now
Any 2 Members can perform this seva. Children below 12 Years are allowed without any ticket.
Per login only one ticket can be booked.
How to Book Kalyanotsavam seva in Online?
After Login Select "Seva" in Menu. Then click on Srivari seva, Tirumala.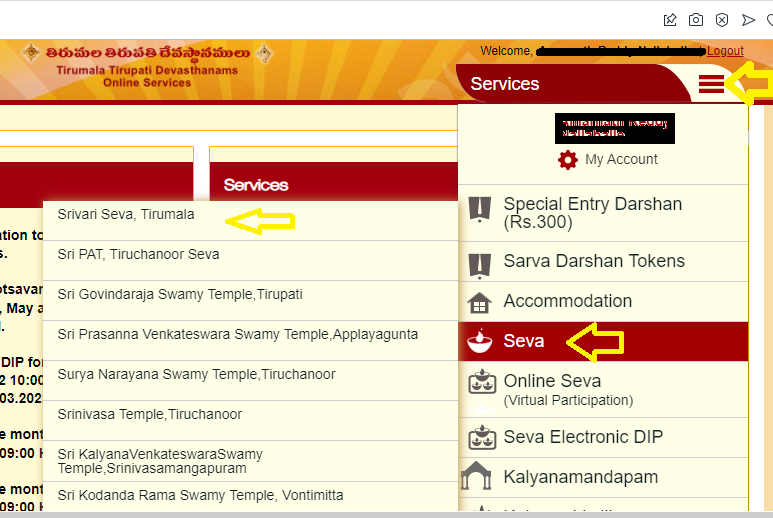 2.Select Kalyanotsavam from the dropdown.

3.Select the date you want.

4.Fill the details and click on continue.

What ID proof can we use for kalyanotsavam booking seva in online?

5. Check all the details and select any payment option and pay now.

Kalyanotsavam For Newly Married Couple
Newly married couple will generally perform this Seva immediately after marriage.
Daily 20 tickets will be given for Newly married couple at CRO office, Tirumala.
Pilgrims need to buy this Kalyanotsavam ticket at Tirumala 1 day before. It's a first come first serve basis.
Timings of counter is 10 AM to 5 PM.
It is mandatory to carry Aadhar card, Wedding Invitation and Photos of Marriage.
Pilgrims can utilize this seva only within 1 week of their marriage date.
Prasadam / Bahumanam
Devotees will be given a Vastra Bahumanam and a big laddu, 2 small laddus.
Darshan For Kalyana Utsavam Seva Devotees
Darshan entrance after Kalyanam Seva is provided and will be merged into the general queue. It hardly takes 15 minutes after seva to have the darshan. The place where Kalyanam is performed is just beside the Main temple with in the temple premises.
TTD Kalynotsavam Dress Code
Dress Code is strictly followed in Tirumala temple.
Men has to wear Dothi and they have to remove the shirt while participating in Kalyanotsavam Seva.
Women has to wear saree or Punjabi dress with Dupatta.
TTD Kalyanotsavam Live
Live of TTD Kalyanam Seva will telecast in SVBC channel during the Seva time.
For any info required on Kalyanotsavam Seva, please leave your comments below. We will get back to you at the earliest.
What Is the Cost of Virtual Kalyanotsavam ?
Cost of Virtual Kalyanotsavam is Rs.1000.
How To Book Virtual Kalyanotsavam?
Please check this detailed article on how to book Virtual Seva – Virtual Seva Online Booking
Read More About Srivari sevas at Tirumala