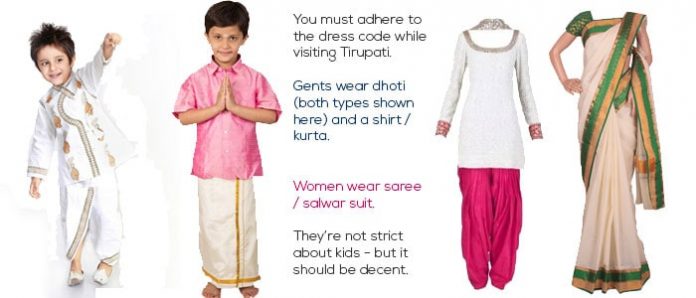 Tirumala Darshan Dress Code
TTD have decided to make the Pilgrims to follow Dress Code and not to allow the western outfits to maintain spiritual ambience in the temple premises. Please check the below details.
The below Dress Code is applicable for pilgrims holding Seva, Rs. 300 Special Entry Darshan and VIP Break Darshan Ticket holders.
Divya Darshan or Sarva Darshan ticket holders no need wear dothi but should come in normal outfit, jeans, T-shirts  and shorts are not allowed. There is no exemption for women in the dress code, below dress code has to be strictly followed.
Dress Code For Women
Female Devotee can wear saree, half-saree or a chudidar with chunni(Duppatta/Upper cloth).
Dress Code For Men
Male devotee can wear dhoti or lungi with uttareeyam or kurta-pyjama. A simple shirt and trousers are also allowed, but it would be ideal if men wear dhoti and uttariyam.
Don't worry if you don't know Tirumala Darshan Dress Code or forgot to come in prescribed Dress Code. There will be local vendors selling Dhoti / Cotton Sarees just outside the Darshan entrance gate. You can buy and change in the Dress Changing rooms located near to the entrance.