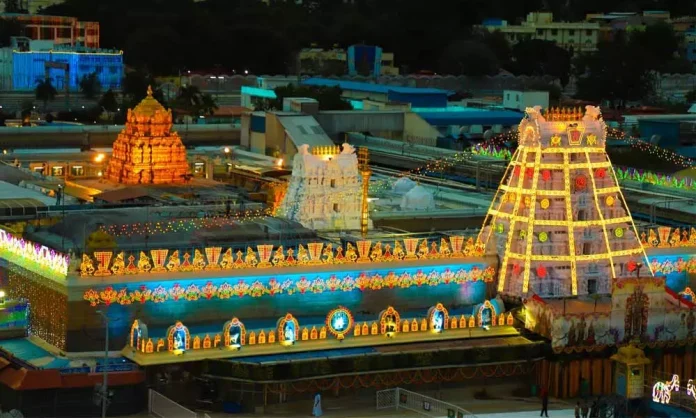 Tirumala Seva Tickets Current Booking
Tirumala Seva Tickets current booking is through Lucky DIP allotment. Original ID proof is mandatory to enroll for Arjitha Seva Tickets.
In Offline booking, pilgrim need to register 1 day before. (For tomorrow seva we need to register today).
Pilgrims can enroll at the current booking counter in Tirumala at CRO Office between 11 AM to 5PM for various arjitha seva tickets as per the prescribed quota.
Two Acknowledgement slips will be generated, one is issued to the enrolled pilgrim for verification purpose, which consists of their Enrolment number, Date of Seva, name of the person, mobile number etc., and the other will be kept for reference by the counter staff.
The allotment of Seva tickets under 1st DIP will be run at 6 PM on an automated randomized numbering system in presence of enrolled devotees through LED Screens.
Devotees with advanced booking tickets for Friday Abishekam should report at Arjitam Office before 8 PM on Thursday. If they fail to report within the stipulated time at the Arjitham office in Tirumala, the absentees that arose will be diverted to the current booking for Lucky dip allotment in the second dip that will be run at 8.30 PM.
The devotees will be intimated by sending SMS to his/her registered mobile numbers to purchase the Seva ticket before 11 PM and for un-successful pilgrims regret messages will be sent.
The auto elimination process will be run for eliminating the pilgrim in getting a chance of allotment under dip system, if the pilgrim is already blessed with any of the dip sevas he/she will not be allowed to select under dip for 6 months.
The pilgrims are allowed to enroll for one arjitha seva only.
For enrolment of sevas AADHAAR is mandatory while for NRI's passports are to be shown as proof.
Kalyanotsavam tickets will be provided to the Newly Wed Couple's within 7 days of their marriage on producing of wedding card, original ID proof and Marriage photos. Only 20 Tickets per day, on first come first serve basis.
Tirumala Seva Tickets Current Booking available for
Seva availability and Number of Tickets issued per day will be depends on the availability on that day. Sevas might get cancelled if there is any events in Temple. If you are planning for Tirumala Seva Tickets Current Booking (offline booking), better to check with TTD once. TTD call center number – 08772233333.