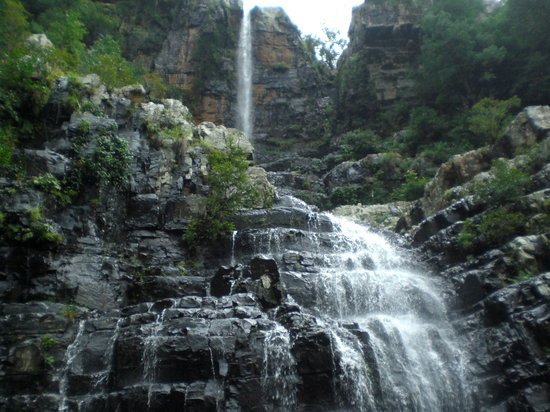 Talakona Waterfalls History
The Temple at Talakona waterfalls is a Siva Temple known as "SIDDHESWARA SWAMY TEMPLE". The deity is called as 'Siddheswara'. As per the Local people, the temple was built some 140 years ago.The SIVA LINGA in the temple was brought from the ruined temple of Rayavaripalli, a village in Pulicherla Mandal.
On olden days there was a custom that if any new temple is constructed, instead of make a new Siva Linga, can install old one which lies without Pooja in ruined Temples. Based on this custom the SIVA LINGA was brought from Rayavaripalli ruined temple. The relics of the ruined temple can be seen today also in the agricultural fields of Rayavaripalli. That field is called as " Lingaakaaram kaada kayya", till today, which means a piece of agricultural field near Siva Lingam.
Talakona waterfalls situated in the forest areas near Tirupati. Road to reach this place is good and covered with greenery. You have to walk about 750 mtrs, to reach the falls, from the final parking lot. Talakona Water falls is shown in many films. The gorgeous waterfall falling from a height of 270 ft  into a deep valley makes it the highest waterfall in Andhra Pradesh. In the same route you can cover Srinivasa Mangapuram
Distance
It is located at 49KM from Tirupati Bus Stand and 23 KM from Bakarapeta which is the nearest town.
Activities
Trekking, Water falls visit, Wild animal sighting, Bird Watching, Boating, Jungle safari drive, Canopy walk.
Facilities
Log huts complex (Log huts, Dormitory and Cafeteria), Jungle Safari vehicle, Eco-trail paths, Guide facilities, Prakruti (Forest product sales).
Talakona Jungle safari
From: Nagapatla Reception to Chamala Valley, Rate Rs.500/- per head
Time
Morning: 06.00 AM to 09.00 AM
Evening: 03.30 PM to 05.30 PM
How To Reach Talakona Water Falls
Bus – APSRTC Ply buses to Talakona. Catch any bus going towards Pileru or Madanapalli and get down at Bhakarapeta and catch an auto. Only two buses were operated from Bhakarapeta to Talakona so people will be highly depending on own vehicles or Auto Rickshaws
Direct Bus is available from Tirupati Central bus stand. It starts at 7.30 AM and the return bus is available at 4 PM.
Cab
For More Details Visit Talakona-Vanadarshani(Forest Dept.)
Address
Talakona Water Falls, Nerabailu Village, Yerravari Palem Mandal, Tirupati District, Andhra Pradesh.
Talakona Waterfalls Map Location