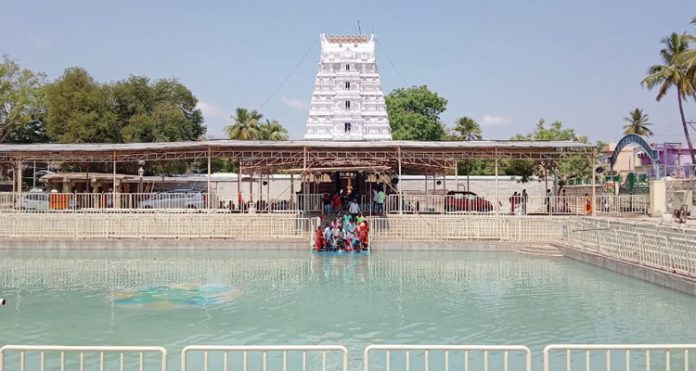 Srinivasa Mangapuram
The holy place – Srinivasa Mangapuram , is where Supreme deity of kaliyuga Sri Venkateswara Swamy along with His consort Sri Padmavathi Devi after their marriage for a stay of six months. The deity of the temple is Sri Kalyana Venkateswara Swamy who is known for his consideration towards the devotees who are in dire need of God's blessings and he is to bless all the devotees liberally.
Read About Srinivasa Mangapuram Temple Sevas and Timings
Legend
There is an interesting Sthala purana behind celebrations of Annual Sakshatkara Vaibhavotsavam. Sri Venkateswara Swamy married the daughter of Akasaraja Sri Padmavathi Devi in Narayanavanam and started journey towards his residence at Tirumala. On the way he reached the Agastya Maharshi Asram which is situated on the banks of Swarnamukhi River and received his hospitality. In those days, there was a rule that the newly edded couple should not climb the hill for six months Hence, Sri Venkateswara Swamy along with His consort Sri Padmavathi Devi lived for Six months in Maharshi's Asram. After six months, he started his journey to Tirumala Sri Venkateswara Swamy gracefully granted the wish of Agastya Maharshi to remain himself as Sri Kalyana Venkateswara Swamy there. The place is present Srinivasamangapuram.
Srinivasa Mangapuram is situated 12 kilometers away from Tirupati town. As it happens to be the place where Srinivasa swamy lived, it is called Srinivasapuram. Later, it came to be known popularly by the people as Srinivasa Mangapuram. In ancient days the devotees who wished to Tirumala used to pass through Srivari mettu which is situated six kilometers in the north of Srinivasa mangapuram temple. In those days, the devotees used to have their darshan of Sri Kalyana Venkateswara Swamy situated in Srinivasa Mangapuram. It is also believed that Sri Venkateswara Swamy himself used to pass through this place after his marriage. The holy temple of Sri Venkateswara Swamy in Tirumala hills is parallel to the Sri Kalyana Venkateswara Swamy Temple situated at the ground level in Srinivasamangapuram.
Various Utsavas are performed by the Tirumala Tirupati Devasthanams every year on different occasions to Sri Kalyana Venkateswara Swamy of Srinivasamangapuram who is treated by equally on par with Sri Venkateswara Swamy of Tirumala by devotees. Among all these utsavas, the Annual Sakshatkara Vaibhavotsavam is the most important one. These utsvas are conducted on a grand scale every year in the month of Ashadam for three days.
Temple Timings
5 AM to 8 PM
Distance
It is located at 12km from Tirupati Bus stand.
Address
Sri Kalyana Venkateswaraswamy Temple, Srinivasa Mangapuram, Tirupati, Chittoor Dist., Andhra Pradesh, 517101.
Temple is managed by TTD Administration
Srinivasa Mangapuram Temple Seva Online Booking
Online booking facility is available for the sevas performed at this temple Please visit https://tirupatibalaji.ap.gov.in for booking
How to Reach
By Bus : You can catch any bus going from Tirupati to Madanapalli or Piler. It will have a stop at Srinivasa Mangapuram.
By Train : Tirupati is the nearest railway station.
By Air : Tirupati Airport is the nearest one to temple.
Srinivasa Mangapuram Map Location