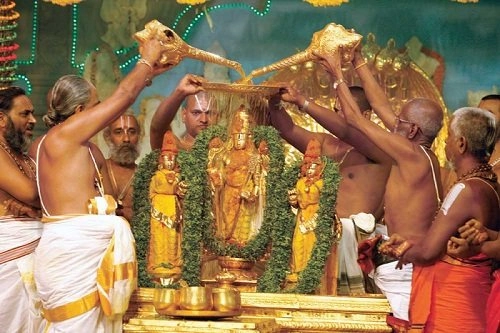 Arjitha Vasanthotsavam Seva
Arjita Vasantotsavam Seva is conducted daily as an abridged version of the Vasantotsavam. The seva is conducted in the Vaibhavotsava Mandapam. The seva is offered to Sri Malayappa swami and His consorts – Sridevi and Bhudevi. The seva begins with perfumeries and scents applied to the deities. The veda pandits chant Purusha suktam,Narayana Suktam,Shri Suktam and Bhu Suktam. Abhishekam is done to the Lord and His consorts with sacred water, milk, curd, honey and turmeric. Finally, sandal paste is applied to Sri Malayappa Swami and consorts. At the conclusion of the Seva, a perforated plate is held on top of the deities and water poured, creating a shower.
Gathering Point:
Devotees should gather at Supadham
Timings:
Arjitha Vasanthotsavam Seva will be performed from 12:00 – 05:00 PM. Devotees should gather one hour before the Seva time at Supadham.
Booking:
Arjitha Vasanthotsavam Seva can be booked online(Subject to availability).

For any info required on Arjitha Vasanthotsavam Seva, please leave your comments below. We will get back to you at the earliest.
Read More About Srivari Sevas