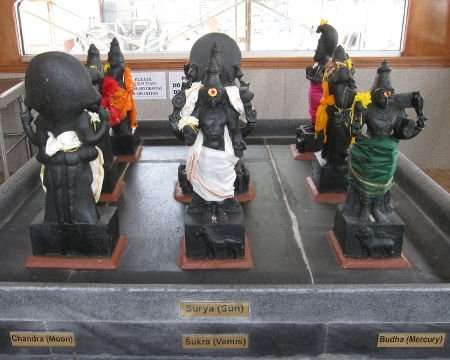 Nine Astrological Temples Pilgrimage
The Hindu astrological system believes that planets govern human lives and shape the circumstances of our births, the events of our lives and our personalities. Hence propitiating the Navagrahas (nine planets) through this tour is believed to alleviate planetary negativities. There is no order in which you have to visit the Navagraha shrines. Many devotees visit only those temples of the planets that need to be appeased according to their individual astrological charts.
Of the nine grahas, sevencorrespond to the days of the week, and the other two are shadow planets, Rahu and Kethu. The Navagraha sthalas are all situated in the Kaveri Delta region around Thanjavur. Although some of these temples are in little villages which can be reached only by bumpy rides on village roads, all nine temples can easily be visited over two or three days. There is a sanctum for the Navagrahas in every Shiva temple. In Navagraha sthalas the main deity in all temples is Shiva alongside the shrine to the individual graha. Devotees first visit the sanctum of the main deity in each of these temples before proceeding to the shrine of the planet.
Nine Temples:
Suriyanar Temple (Sun)
Kanjanur Sukran Temple (Venus)
Tirunageswaram Temple (Rahu)
Thingalur Temple (Moon)
Alangudi Temple (Jupiter)
Vaithiswaran Temple (Mars)
Thiruvengadu Temple (Mercury)
Keezhperumpallam Temple (Kethu)
Tirunallar Temple (Saturn)