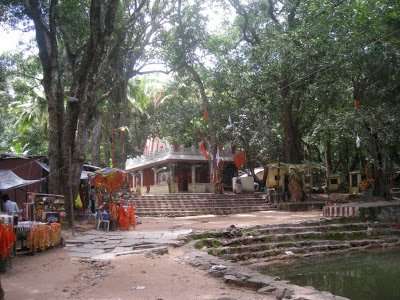 Japali Theertham
There is Japali Theertham amidst a beautiful forest environment on the way to Akasha Ganga. There are Dhriva Theertham and Sitamma Theertham as well as an Anjaneya temple quite near to it. One can not only get rid of one's diseases and sins but also earn merits by bathing in or drinking the sacred waters of these theerthas.
Japali Theertham is deep inside the woods. One has to trek for an hour to reach Japali anjaneya temple, but its worth visiting.
It is believed that Rama and Sita stayed in Tirumala along with Anjaneya at this location. There is a tree in the premises of the temple, in which one can visualize Lord Ganesha.
There is a pond near the temple which is believed to wash away all your sins if you have a bath in it.
Timings
Will be opened for public during day time only till lights lasts in the evening.
How To Reach Japali
APSRTC runs buses between CRO Office, Tirumala to Papavinashanam daily. You can alight at Japali Theertham.
Buses will be available with a frequency of half an hour.
You can reach Japali in your own vehicle as well, however you need to walk for 1 KM inside forest to reach Japali Hanuman Kshetra.
Japali Theertham Map & Directions