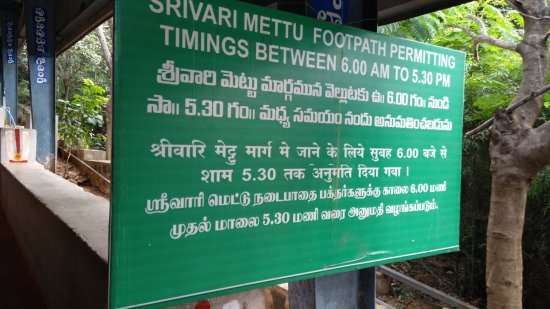 Srivari Mettu Timings
#Covid-19 Update: Due to Covid restrictions tokens are not issued in the pathway. Those who have pre booked darshan tickets can go through the pathway.
Pilgrims are allowed to trek through Srivari Mettu to reach Tirumala.  Below are the Srivari Mettu Timings during which pilgrims are allowed to reach Tirumala by walk.
Currently Pilgrims are allowed during the timings 6 AM – 5:30 PM through Srivari Mettu daily.
Free luggage drop counter is available at Srivari Mettu. Pilgrims can drop their luggage at Srivari Mettu, which will be brought to Tirumala by TTD . Free buses are also available from Tirupati Railway Station to Srivari Mettu.
Pilgrims who walk through Srivari Mettu can collect the darshan token at 10th Step and get it stamped at Step 1200. There , you will be given a time slot during which you can enter queue complex for Lord Balaji Darshan.
Per Day 6000 tickets will be issued for the pilgrims who take the Srivari Mettu route to reach tirumala by walk.
Special quota may get cancelled during special days like Garuda Seva, Vaikunta Ekadasi. Please call 0877 – 2233333 if you have any queries.
Also Read Alipiri Timings