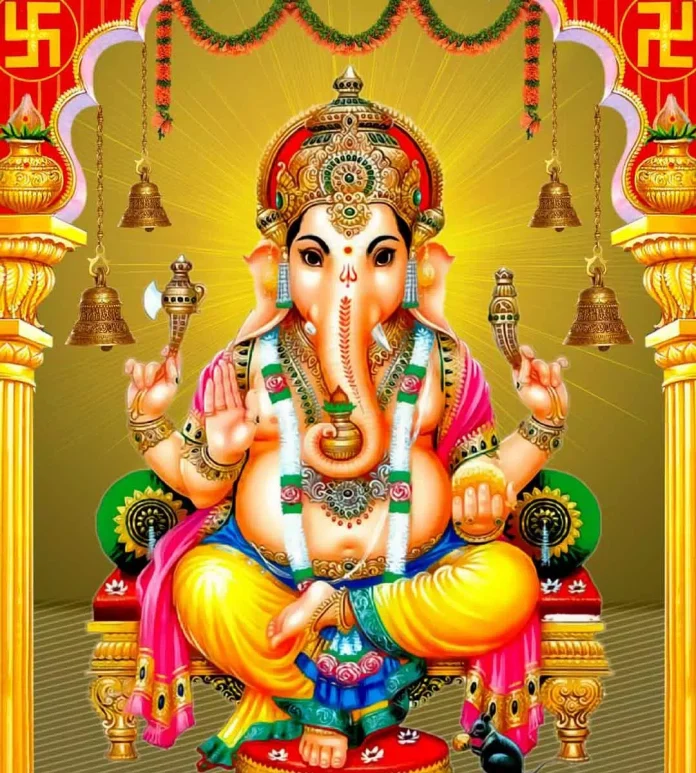 Vinayaka Chaturthi
The festival of Ganesh Chaturthi or Vinayaka chaturthi as it is called is celebrated across India with people performing puja in various forms to the idol of the elephant-headed Hindu God. Vinayaka Chaturthi, Ganesh puja is the first in the list of celebrated in a year, by all Hindus, as per Hindu Almanac, of course, as per their own tradition and culture.
Sri Krishna in Bhagawad Gita told – If one offers to Me with devotion a leaf, a flower, some fruit, or even water, I delightfully partake of that item offered with love by My devotee in pure consciousness. Ganesha is equally revered as a God of simplicity. All you need for the puja is a bowl of water, a few flowers/grass plants, and any fruit/food (Prasad) that you can offer. Any other puja material like an incense, sandalwood paste, turmeric, kum-kum, camphor and yellowed rice are all optional. Given here is a simple ritual that you can perform on the special day of Ganesha Chaturthi / Vinayakachathurthi. Based on your family traditions and Guru/Acharya's guidance, you can perform this puja with any variation that you deem necessary or important for the Sampradaya/tradition you belong to.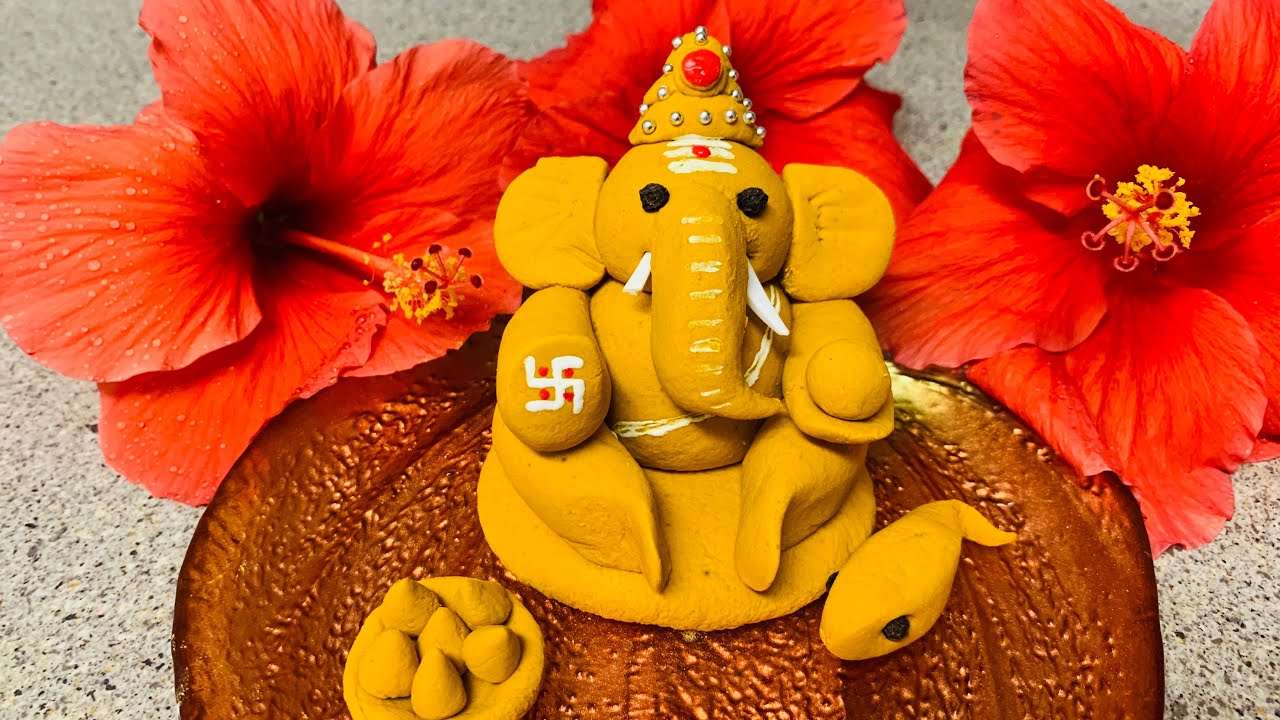 Vinayakachathurthi puja is generally performed in the morning hours. One must take bath and wear the clean  traditional clothes. The house must be sanitized with cow's urine and fittingly decorated. As far as possible prefer natural decoration with flowers, rangoli and door hangings made of palm leaves and leaves from a mango tree.
Arrange for all the things that are required before starting the puja so that there will be no interruption until completion of puja.
The first thing you need is "Ganesha" to perform a puja. Where do you find a Ganesha? You may have him in any form. A brass idol, a clay doll, a picture from a calendar or a poster, a painting etc. If you find none of these, there is an easy way to make a representation of him which is an age-old recommendation. You may choose any organic object like clay or turmeric and make a small mold of it. As mentioned earlier Ganesha is a God of simplicity and there is an old saying that even if you mold cow dung in your hand it becomes Ganesha.
Also Listen to Ganesh Suprabatham
Also Listen to Vinayaka Chaturthi – Ganesh Bhajans
The Process of Vinayaka Chaturthi Vratam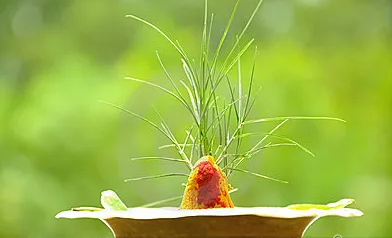 Achamanam (Purification): Once you have Ganesha ready, meditate upon him. Sprinkle water in your hands to clean it, sprinkle a few drops to cleanse your body and consume a few drops of it to cleanse your soul. You may recite the following mantra:
Om! Achyutaya Namaha, Om! Anantaya Namaha, Om! Govindaaya Namaha.
Aasanam (Offer a seat to the God): In Sanskrit you say "Aasanam Samarpayami". By saying this you can place Ganesha on any pedestal.
Sankalpam (Oath taking to tun your mind to perform the puja): You can recite the following mantra: Sri Bhagawad preetyartham/kainkarya roopam: Maha Ganapathi pujam karishye.
Avahanam(Invocation): You can recite any sloka on Ganesha. The most common ones are given below:
Gannaanaam Tvaa Ganna-Patim Havaamahe
Kavim Kavinaam-Upama-Shravastamam |
Jyessttha-Raajam Brahmannaam Brahmannaspata
Aa Nah Shrnnvan-Uutibhih Sida Saadanam ||
Among the Ganas (Group of Prayers), to You who is Ganapati (Lord of Prayers), we Offer our Sacrificial Oblations. You are the Wisdom of the Wise and Uppermost in Glory. You are the foremost King of the Prayers, presiding as the Lord of the Prayers (Brahmanaspati). Please come to us by listening to our invocation and be present in the seat of this sacred sacrificial altar (to charge our prayers with your power and wisdom).
ShuklaAmbara Dharam Vishnum
Shashi Varnam Chatur Bhujam
Prasanna Vadanam Dhyaayet
Sarva Vighnopashaantaye
O! Lord, he whose dress is the wide white
sky, who is all pervading, whose arms are spread
to all four sides. One with the blissful face, we
meditate on you, nullify all troubles.
Prokshanam (Purification of the Lord): You can recite the following mantra:
Argyam Samarpayami (offering water to clean the divine hands)
Padayoho, paadyam samarpayami (offering water to clean the divine feet)
Achamaniyam samarpayami (offering water to clean the divine soul)
Snanaanantharam achamaniyam samarpayamai (offering water as a divine shower)
Alankaram (Decoration): Once Ganesha is  bathed as per the previous step now, he is
decorated. You can recite the following mantra:
Abaranani – Vastraani samarpayami (Offer wearables/clothes).
Divya parimala Gandham Dhaarayami (Offering sandal paste).
Gandhasyopari haridra kumkumam samarpayami (Offering turmeric and kum-kum)
Pushpamalikan samarpayami (Offering garland).
If you do not have any of the above with every line above, you can say "Akshataam samarpayami" to imagine the flowers you offered as all the objects above.
Archanam (Worship): With the grass, recite 108 names of Ganesha and offer the grass flowers as worship.
At the end you must say Nanavidha parimala pathra pushpani samarpayami (Offering all types of flowers and leaves).
Shodasopachara poojaam karishye (Offering 16 types of upacharas).
Dhoopa maghraapayami (Offering incense).
Deepam sandarshayami (showing lamp).
Kadali phala naivedyam samarpayami (Offering banana/fruits).
Thamboolam samarpayami (Offering beetel leaves and areca nuts).
Suwarna pushpam samarpayami (Offering coins as dakshina).
Manthra pushpam samarpayami (offering worship with various Vedic chants).
If you do not have any of the above, you can simply offer turmeric rice every time you mention it and say 'Akshathaam' (rice mixed with turmeric powder) samarpayami. Or you can offer a flower saying pushpaani samarpayami.
Naivedyam (Offering food as prasad): Offer any food that you specially made for the occasion. If nothing grand is available, you can offer cooked rice, ghee, dhal and curd. If that is also not available, you can offer a few fruits. Even if that is not available, you can offer a bowl of milk. If nothing is available, you can offer water or at least you can join your hands (Anjali) and imagine you offer all the above and more.
Then recite: Maha naivedyam samarpayami (offering Maha prasadam)
Maha Aarthi (offering divine fire): You can recite any Mangala sloka on Ganesha and light a camphor or any Deepa (light). You need to circle it three time around Ganesha Moorthy to complete the pooja.
You can recite the following Mangala sloka:
Om ekadantaya vidmahe …. vakratundaya dheemahi …. Tanno danti prachodayat ….
O! the Lord with single tusk, who is omnipresent and the one with a curved trunk, I meditate upon you for great intellect. I bow to you O Lord with a single tusk to illumine my mind with wisdom.
Visarjana (Farewell): After all the puja is done, then the last and the final stage where the deity is given a farewell 'Visarjana'. All pujas end with Mangala Aarati. This can be made with water mixed with kum-kum (vermilion) and turmeric. If you do not have it, you can sing some praise of Ganesha. Hope the divine grace of Ganesha be bestowed upon each one of you who are inclined to celebrate Vinayaka Chaturthi. The sublime theme in any puja is not how much you offer as prasadam or do decoration, or say Manthras, but how affectionately and wholeheartedly you present them to the Deity.