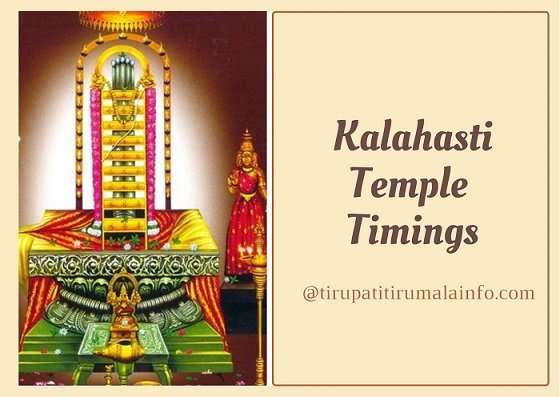 Sri Kalahasti Temple Timings
This page will help you in knowing the Kalahasti temple timings. You can plan to visit the temple as per your convenience.
Darshan will take approximately 1 hour. Also depends on the rush on that day.
During some auspicious Months the timings of sri kalahasti temple will differ. Please check the below information thoroughly and plan accordingly.
Read More About – Sri Kalahasti Temple
SriKalahasti Temple Timings – Regular:
| | | |
| --- | --- | --- |
| S.No | Day Of the Week | Timings |
| 1 | Monday | 4:30 AM To 9:30 PM |
| 2 | Tuesday | 5:00 AM To 9:00 PM |
| 3 | Wednesday | 5:00 AM To 9:00 PM |
| 4 | Thursday | 5:00 AM To 9:00 PM |
| 5 | Friday | 5:00 AM To 9:00 PM |
| 6 | Saturday | 4:30 AM To 9:30 PM |
| 7 | Sunday | 4:30 AM To 9:30 PM |
SriKalahasti Temple Timings – Dhanurmasam / Karthika Masam :
| | | |
| --- | --- | --- |
| S.No | Day Of the Week | Timings |
| 1 | Monday | 4:00 AM To 9:30 PM |
| 2 | Tuesday | 4:30 AM To 9:00 PM |
| 3 | Wednesday | 4:30 AM To 9:00 PM |
| 4 | Thursday | 4:30 AM To 9:00 PM |
| 5 | Friday | 4:30 AM To 9:00 PM |
| 6 | Saturday | 4:00 AM To 9:30 PM |
| 7 | Sunday | 4:00 AM To 9:30 PM |
Sri Kalahasti Temple Official Website 
You can avail below services from the Temple Official Website
e-Hundi
Paroksha Seva (Virtual Seva)
e-Donation
https://tms.ap.gov.in/SRIKHT/cnt/about-temple
If you have any queries about Sri Kalahasti Temple Timings , you can contact the Temple Helpline on 08578-222240