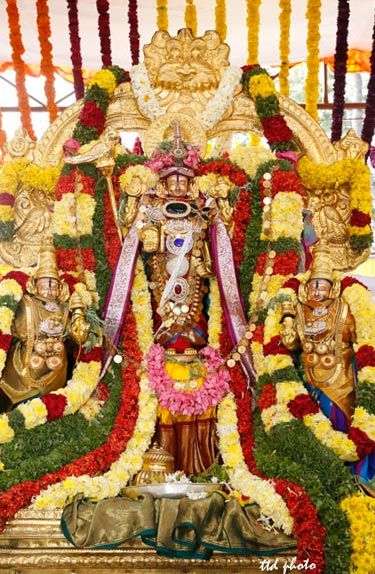 Sakshatkara Vaibhavotsavam
Evident from the Inscription
Sri Kalyana Venkateswara Swamy is receiving the puja of devotees from the ancient days, the temple of Kalyana Venkateswara Swamy reached its state of dilapidation. As such, the grandson of Sri Tallapaka Annamacharya, Chinna Tirumalacharya (Chinnanna) renovated the temple and performed puja to Sri Kalyana Venkateswara Swamy. This fact is evident from the Inscription dated March 22nd 1510 at the entrance of the temple.
Later, the temple retained its glory from a number of years till it lost in 20th Century. In 1940, an Archaka by name Sri Sundara Raja Swamy of Kanchi came to Srinivasa mangapuram. Sri Kalyana Venkateswara Swamy appeared in the dream to Sundara Raja Swamy and ordered him to see that the temple area to be cleaned and the pujas to be continued. As such Sundara Raja swamy took the help of the local people to clean the bushes in the temple premises and started regular pujas.
Sundara Rajaswamy conducted puja of Sri Kalyana Venkateswara Swamy on July 11 in 1940 That day was Ashada Sukla paksha Shasht that day was the day on which the great deity showed his blessings through His holy appearance before the devotees. Taking this as an auspicious occasion, The Tirumala Tirupati Devasthanams started celebrating the "Sakshatkara Vaibhavotsavams" every year.
Sakshatkaram
The holy appearance of the deity before the devotees is called Sakshatkaram or Darshan. Taking this occasion of the deity holy appearance, the Festival is celebrated and hence, it is called Sakshatkara Vaibhavotsavam. This festival is celebrated for three days i.e. previous day and the following day including the day on which His holiness appeared i.e., Ashada sudda shasti.
Three Day Festival
On the First day of these celebrations the processional delty of Sri Kalyana Venkateswara Swamy along with His consorts are taken out in a procession from the temple to the kalyana mandapa Tirumanjanam (Celestial Bath) is conducted between 10.00 a.m. and 11.30 a.m. In the evening Unjal Seva will be performed.
At night, the processional deity of Sri Kalyana Venkateswara Swamy along with His consorts is taken out in a procession on Golden Tiruchi around four Mada streets Similarly, on the second day Hanumantha Vahana Seva is celebrated. On the Third day night, the Garuda Vahana Seva is performed Taking into consideration, the holy day on which the Lord made his appearance before the devotees, the three day festival of Sri Kalyana Venkateswara Swamy is celebrated with the worshipping of the devotees and in return the Lord blesses them. In these Sakshatkara Vaibhavotsavams, the Darshan of the Sri Kalyana Venkateswara Swamy results in the endless blessings on the Devotees.
This temple is under the maintenance of TTD.