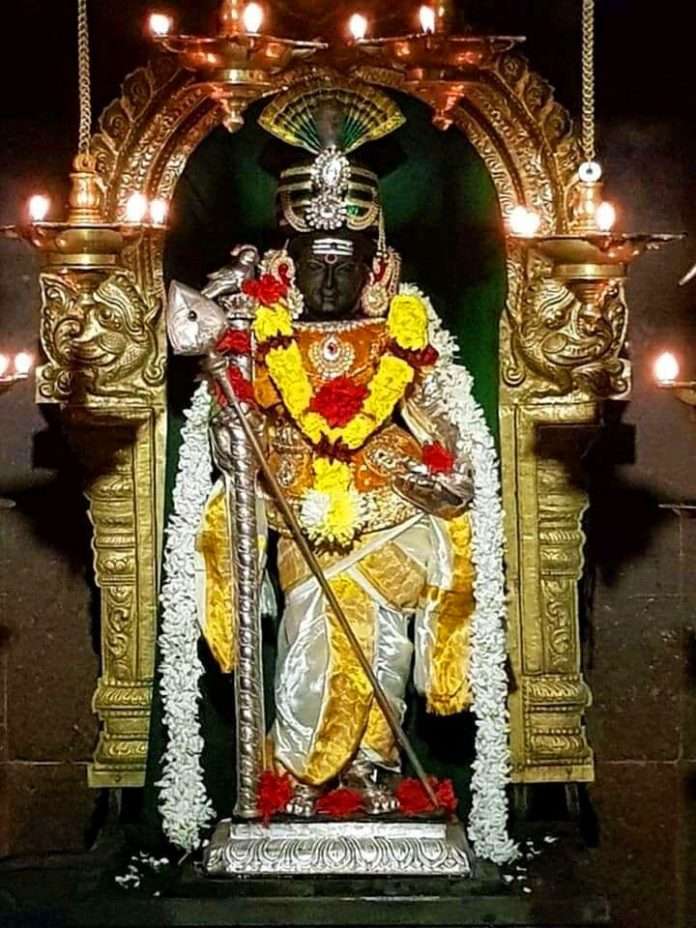 Aadi Kruthika
The star Kruthika is associated with Lord Subrahmanya Swami. He is the son of Lord Siva and Goddess Parvathi and is being worshipped by many devotees.
'AADI' otherwise called 'AASHADA', is the first month of Dakshinayana, marking the travel of the Sun towards the Southern hemisphere, being the auspicious month, marking many religious festivals.
Thiru Aadi pooram is celebrated as the birthday of Andal, considered to be one of the twelve Alwars, vaishnavite saints, worshipping Lord Vishnu.
'AADI KRUTHIKA' is a Sacred and Holy festival purely devoted to the worship of Lord Subrahmanya swami, in all his temples. Lord Subrahmanya Swami is also known as Murugan,Karthikeyan, Kandan, Vadivelan, Saravanan, and Shanmukan particularly in Tamil Nadu. His primary temples at six Holy places are known as 'ARU PADAI VEEDU' – Tirupparam Kundram (near Madurai); Tiruchendur otherwise known as Tiruchiralaivaai (near Tirunelveli on the sea cost), Pazhani (Tiru Aavinangudi) on a hill (near Dindigal); Swaami Malai-Tiruveragam (near Kumbakonam) where Murugan is said to have taught the nuances of Pranavam-Om to his father Siva; 'Tiruttani' (Kundruthor aadal)on a hill (near Arakonam) and 'Pazhamudhircholai' on a hill (near Azhagar koil Temple – Madurai). Devotees throng these temples on festival days and on Aadi Kruthika days.
Aadi kruthika is a famous festival for Lord Subrahmanaya swami. It is said in Skanda Purana, that the Lord was born out of the third eye of Lord Siva and was found in Saravana Poigai (Sacred tank). The heavenly child was brought up by six celestial damsels called Karthigai pengal (women) and had six heads. Hence he was called 'Karthikeyan' and 'Shanmukan'. Because of the selfless service, the six celestial damsels were blessed with immortality by the Divine Couple, Lord Siva and Goddess Parvathi. Also the star Karthika (because of the connection of the six Karthika damsels) was given prominence among other stars. From that time onwards, the Star Karthika is celebrated every month in all Subrahmanya swami temples.
But the Aadi kruthika is celebrated with pomp and pleasure and at the same time with all sacredness. The same is celebrated in all above mentioned AARU-PADI VEEDU- in grand manner to get the blessings of the presiding deities Sri Subrahmanya Swami (Tiruparangundram), Sri Sendhilaandavar(Tiruchendur); Sri Pazhani Andavar( Pazhani), Sri Swaminathan (Swamimalai),  Sri Tiruttani Murugan and Sri Solai Malai Murugan
The Aadi Kruthika festival at Tiruttani
The festival starts the previous day itself called Bharani Utsavam. On Aadi kruthika, the Lord is given a grand Abhishekam(ablution) in the morning and adorned with beautiful dress and flowers. Special Pujas are performed for the welfare of the human beings. Lakhs of people from all over come here to witness the grand festival and get the blessings of the Lord. In connection with this festival, Teppotsavam (float festival) is arranged for the sacred idol of Lord Muruga for three days starting from Aadi kruthika, in the evening in Saravana Poigai (Pushkarini).
The Aadi Kruthika festival in other Subrahmanya Swami temples
In Swamimalai, the idol is taken on a procession on Peacock vahana (Mayil Vahanam) at night, a grand sight to witness. During Aadi kruthika, Devotees of Subrahmanya swami, wear saffron or green clothes. Some observe fast to show their devotion. Many undertake Pada yatra( travelling by foot from their home places) to Tiruttani or near by Murugan Temples. Many carry Pal kudams(pots with milk), Pushpa kavadi (some sort of wooden pole surmounted by wooden arch decorated with flowers) etc. Some wear pierced spear in their body (called Aalgu) to show their penance; some offer their hair as people do in Tirupati. Some do Anga pradakshinam (rolling bodily around the inner temple premises) as in the case of Tirupati. The Kavadi Attam (Dance with Kavadi) is a grand show to be seen during this festival, people shouting "Arohara!
Arohara! Muruganukku Arohara! Skandanukku Arohara! Velanukku  Arohara!" likewise. The Kavadi carrying and Kavadi Attam are very famous during this festival.