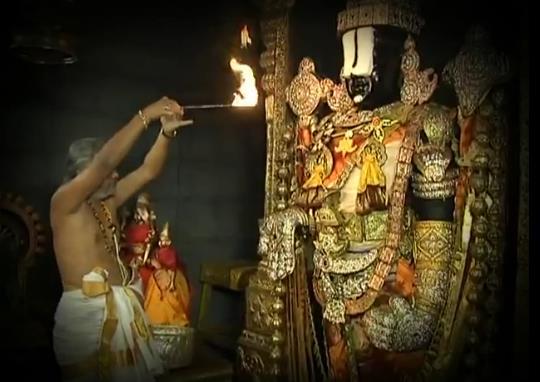 Archana Seva
Archana seva is one of the most famous seva performed to the moola virat (main diety) of Lord Venkateswara Swamy. Archana is also called as 'Sahasranamarchana'(1008 glorious names of Lord). Blessings will be provided to the pilgrims on their name and gothra. Devotees are allowed to sit infront of the God for half an hour and it will be real feast to your eyes.
This is one of the seva where you can watch the Lord very closely and for nearly half an hour.
How to Book Archana Seva in Online?
TTD is providing this seva tickets tickets in online dip booking system. Pilgrims are provided 2 days window to register for Archana in Electronic Dip booking system. On next day lucky dip list will be published . Pilgrims who got selected in the list will be intimated through SMS and E-Mail. They will be provided a 1 day window period during which they can make the payment and confirm the ticket.

For steps on how to book the Seva through online booking. Scroll down.
Archana seva is performed immediately after completion of Thomala Seva .Generally this Seva is carried out 3 times a day, Devotees are allowed only in the morning time, remaining 2 times ( archana in afternoon and in evening) are performed in Ekantham, devotees are not allowed for it . This ritual is performed in the presence of 200 devotees daily. The flowers are placed at the feet of lord vekateswara while reciting his 1008 names. Many of the devotees bring the holy book consisting of these Sahasranamas and recite along with the Pandits.
This daily seva in Tirumala starts at 4:30 A.M. It takes about one hour for the completion of the ritual.
The ticket cost is Rs220/- per head which is very worthful and two Laddus will be given per ticket.
TTD allows pilgrims only on Tuesdays, Wednesdays and Thursdays to attend this seva. On the remaining days including the festivals and other auspicious occasions, only temple archaka's are allowed to perform the ritual.
Sahasranama Archana is an arjita seva on Tuesday, Wednesday and thursday and on Friday, Saturday Sunday and Monday it is performed in ekantam.
Reporting Time : 4:00 AM
Seva Time         : 4:30 AM to 5:30 AM
Day of Seva       : Tue-Wed-Thu
Price of a Ticket: Rs. 220.00
No. of Persons allowed per ticket: One
Prasadam / Bahumanam : 2 small laddus
Booking Procedure for Archana Seva
Visit https://tirupatibalaji.ap.gov.in/ and login with your credentials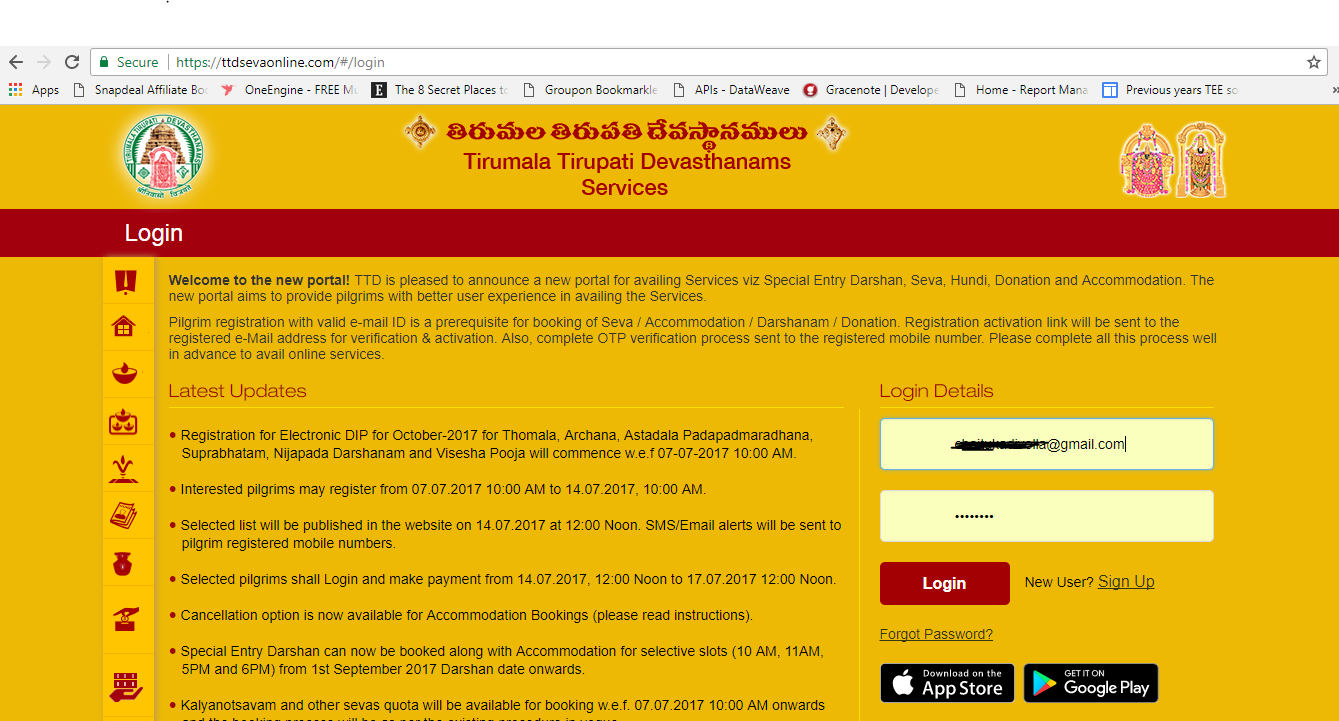 2. You will see a home screen like below. Click on the "Seva Electronic Dip" link – highlighted below.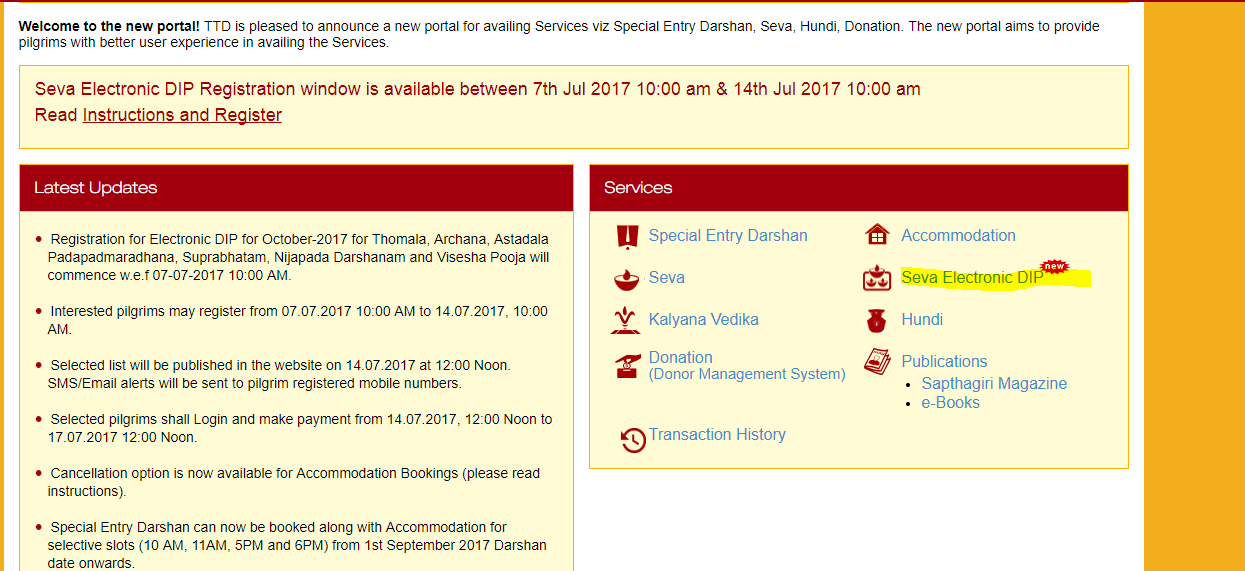 3. Instructions page will be displayed. Please read the instructions carefully. Check the "I have read and agree to the instructions." and click on "Continue" button.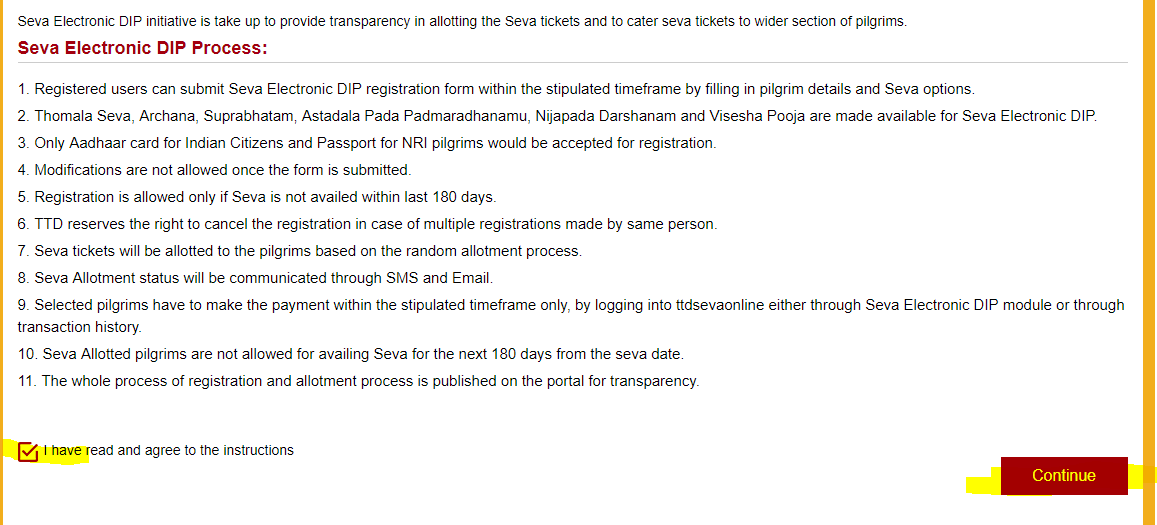 4. Enter the details of the Pilgrims.You can book tickets for two persons at a time. For Indian Pilgrims Photo-ID proof should be Aadhaar Card only. NRI's can select the Photo ID proof as Passport. Verification will be there at the entry gate. So please enter the details carefully and carry originals while attending for seva. After entering details click on "Continue" button.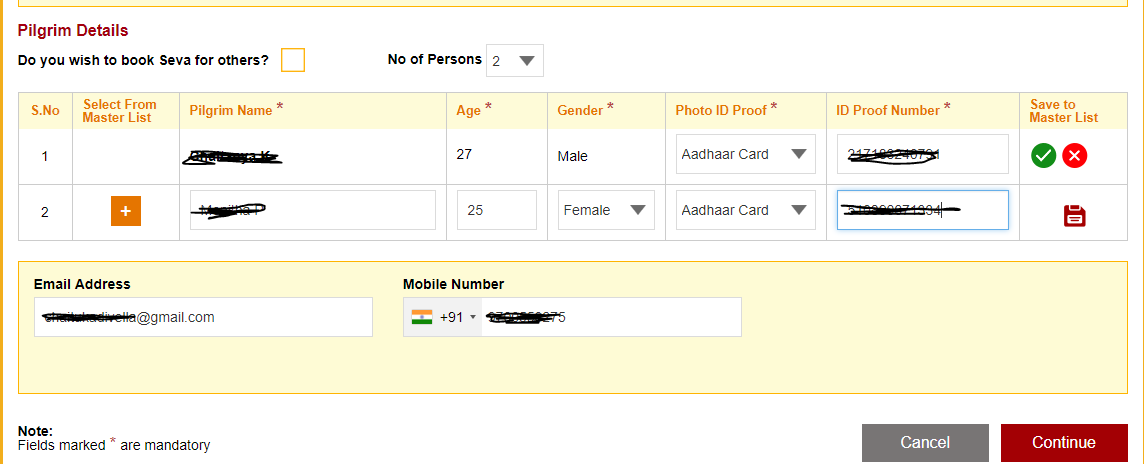 5. Two options are provided for Pilgrims either they can Select "Any seva and any date" or "Select Seva / Date"
Any Seva Any Day – Dip System will auto allocate tickets to any of the below seva for any date.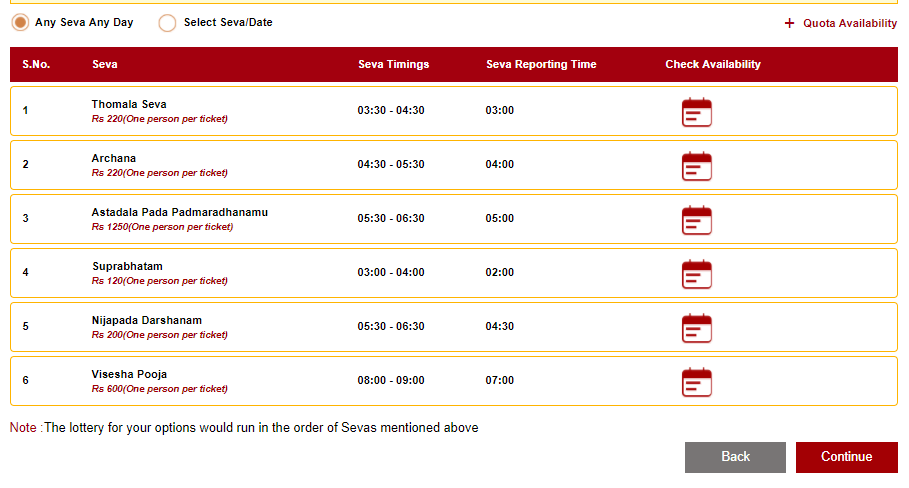 Select Seva / Date – You can select the Archana seva and date of your choice.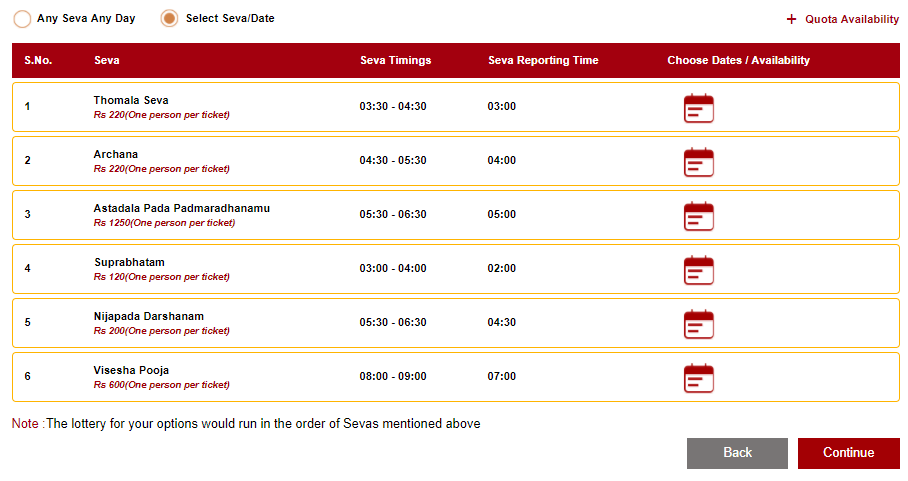 Select a date of your choice and close this window and click on Close (X) button. Then Click on "Continue" button.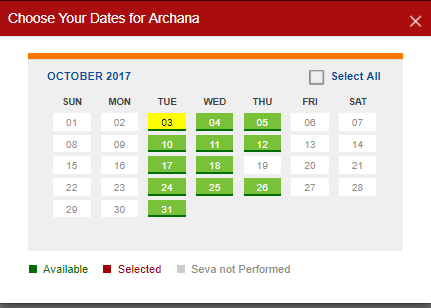 6. In the next page , the list of sevas you have opted will be displayed. You can opt for multiple sevas. Based on availability only one will be alloted. You can opt for any seva by clicking on "Back" button in this screen. Once you are done with your selection, click on "Submit" Button.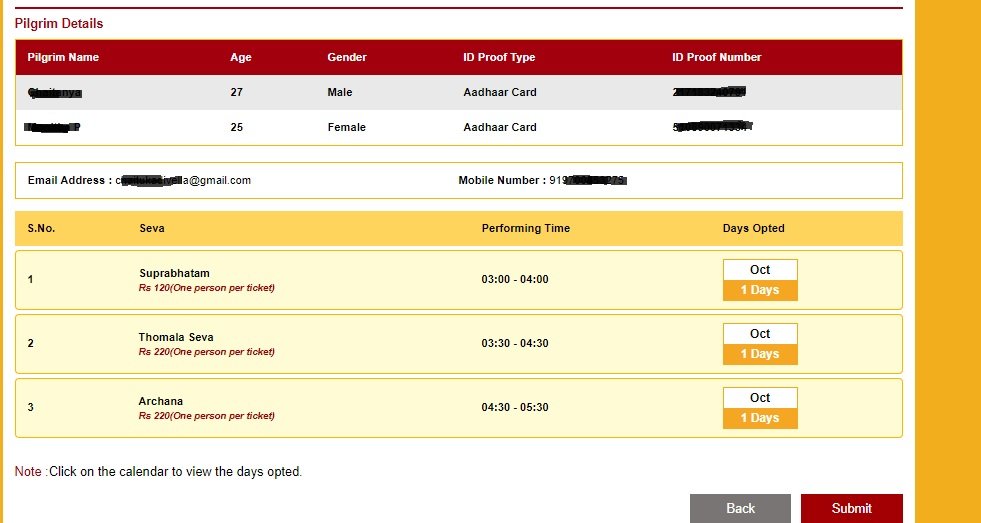 7. A submission ID will be displayed. Please note it down for future reference.

8. Lucky Dip Selection date will be published on that the selected pilgrims will get SMS and email to their registered mobile number and email address. Or you can Search in this page
https://tirupatibalaji.ap.gov.in/#/seva/DIP/Search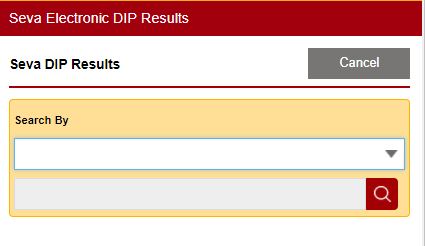 Here you can search with any one of the following
Form ID (Submission ID)
Aadhaar Card
Passport
Mobile Number
9. Once you are selected in the list you will be allowed to make your payment with in 1 day. Ensure that you make the payment for Archana Seva.
If you need any info on Archana Seva . Please leave your comment below. We will respond at the earliest.
Read More About Srivari Sevas