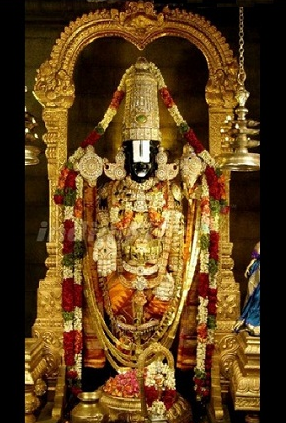 Melchat Vastram Seva / Vastralankarana Seva
Melchat vastralankarana seva will be conducted immediately after conducting Abhishekam on Fridays. The deity of Venkateswara will be adorned with saree bought and handed over by devotees participating in that seva. The priests will apply Namam, adorn saree and few jewels to the deity of Venkateswara and no devotee is allowed to watch this. The devotees participating in Abhishekam and Vastralankarana Seva are allowed for post abhisheka darshan with new saree after offering naivedyam to the Lord.
What is the Cost Of Melchat Vastram Seva At Tirumala?
Cost of this seva is Rs.12,500/- per ticket and 2 persons will be allowed with one ticket.
How To Book Melchat Vastram Seva at Tirumala?
Online booking of Melchat Vastram Seva / Vastralankarana Seva is not available.
Current Booking is available for Vastralankarana Seva. You need to go to CRO Office to register for lucky dip for this seva. If you are selected in the lucky dip, then you will be notified via sms and you can collect the ticket.
Tickets has to be obtained by submitting a recommendation letter one day before the seva date at  J.E.O office in Tirumala. Once your letter is approved, you can collect the tickets at MBC-34.
Reporting Place and Timings
Vastralankarana Seva will be performed from 3:00 – 03:30 AM. Devotees should gather one hour before the Seva time at Supadham.
Prasadam For Melchat Vastram Seva
Pilgrims will receive 2 Big Laddus and Vada, 1 Blouse Piece, 1 Upper Cloth and Chandanam Packet.
Read About : Daily Sevas At Tirumala
Read About : TTD Online Booking – Rooms, Darshan, Sevas
Few other Sevas have online booking option. Please check  – https://tirupatibalaji.ap.gov.in
For any info required on Vastralankarana Seva, please leave your comments below. We will get back to you at the earliest.