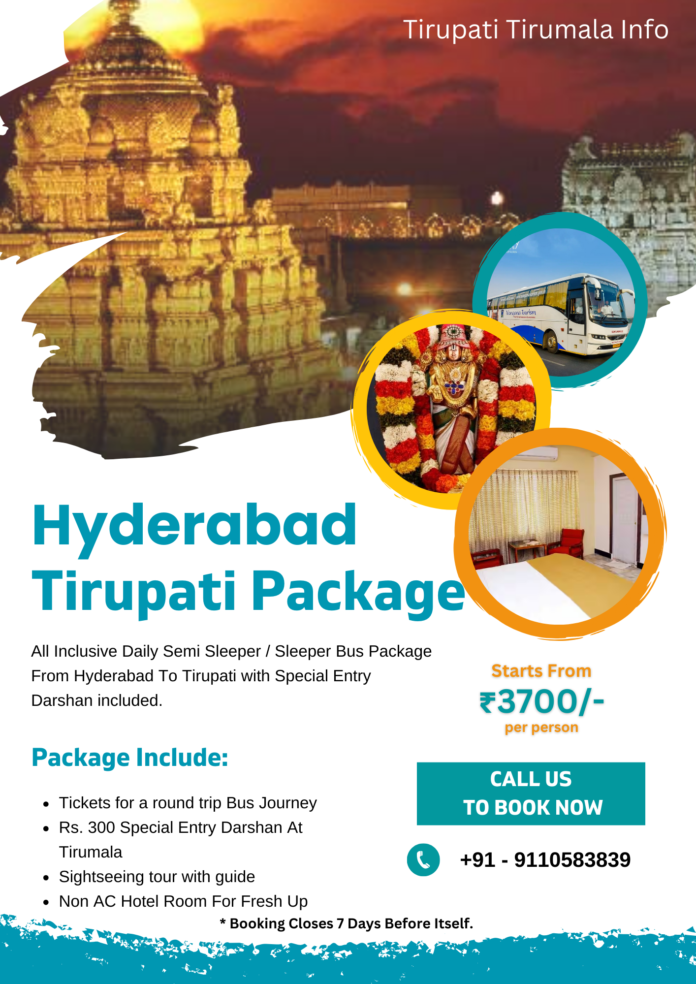 Telangana Tourism Tirupati Packages
Planning to go on a trip from Hyderabad to the sacred place of Tirupati. Telangana Tourism has a special bus package just for you! This guide is here to help you understand all about the trip, like where you'll go, how much it costs, what's included, and what's not.
TSTDC Tirupati Tour Package Itinerary
This trip takes 2 Nights / 3 Days . Here's what you'll do:
**Day 1: Leaving from Hyderabad**
– At 5:00 PM, Bus Starts from Kukatpally
– At 6:00 PM, Boarding at Yatri Nivas
– At 6:15 PM, Boarding at Begumpet
– At 7:00 PM, Final Boarding Point at CRO, Basheerbagh
– Will be stopped for Dinner during Journey
**Day 2: Exploring Tirupati**
– Reaches Tirupati at 5:00 AM.
– Room will be provided for fresh up.
– After Fresh up have breakfast at 7:00 AM visit Sri Padmavathi Temple.
– Change bus and then go to Tirumala as the Volvo bus wont fit in the ghat road.
– You will be allowed for darshan at 11 AM. After darshan, have lunch and do some shopping
– You'll start your return journey to Hyderabad around 6:00 PM.
**Day 3: Reaching  Hyderabad**
– At 5:00 AM, Bus reaches Hyderabad
**Pricing:**
This trip comes in different categories, and here's what you might expect to pay:
– Semi Sleeper : Rs. 3,700 Per Adult
– Seim Sleeper : Rs. 3,400 Per Child
– Sleeper : Rs. 4,400 Per Adult
– Sleeper : Rs. 4,100 Per Child
For Children below 4 years, ticket is not required.
For Children between 5-11 Years, Rs. 300 will be less compared to Adult price as they dont need darshan ticket.
**Inclusions:**
Your trip includes some important things to make your journey comfortable and fun:
– A comfy bus ride to Tirupati from Hyderabad.
– A nice place to fresh up in Tirupati.
– Breakfast is included.
– Visits to Tirumala Venkateswara Swamy and Tiruchanur Padmavathi temples.
– Rs. 300 special Entry Darshan Ticket of Tirumala Temple.
– Guides who know a lot about the places.
**Exclusions:**
Some things aren't included in Telangana Tourism Tirupati Packages, and you might have to pay for them:
– Buying things you like while shopping.
– Extra meals like Lunch and Dinner that are not part of the plan.
– Travel insurance (like protection in case something goes wrong).
– Tips (extra money) for the driver and guide, if you want to give them.
**Timings:**
The trip follows a schedule, just like a plan for the day. Listen to your guide to make sure everything goes smoothly.
**Important Tips For Telangana Tourism Tirupati Packages:**
1. Wear decent clothes when you visit temples. Cover your shoulders and knees.
2. Bring your ID and make photocopies of it.
3. Sometimes, you might have to wait at the temples, especially when it's crowded.
4. Follow what your guide tells you, so you have a great time.
In the end, Telangana Tourism Tirupati Packages from Hyderabad is a fantastic way to explore a special place without any worries. It's well planned, not too expensive, and full of divinity.
We are an authorized agent of Telangana Tourism to book Tirupati Tour Package of TSTDC. For bookings, call us on 9110583839
Check other package tours – Govt package Tours To Tirupati