Palani Murugan Temple
Palani Murugan Temple is in Sirumalai Hills near Madurai. Palani is equidistant from Madurai and Coimbatore (100km). There is both a winch and rope-car service to the top of the hill (5.30am-7pm; winch tickets ₹10, ₹50 on festive days). Many devotees choose to climb the steps to the top of the hill.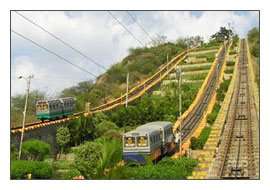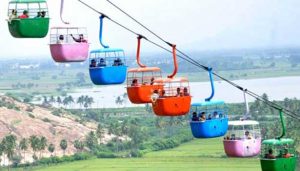 Temple Deity – Dandayuthapani
Muruga stands here as an ascetic boy holding a dandam or staff that is why he is called as Dandayuthapani at Palani. Once Shiva and Parvati told their sons, Ganesha and Muruga, that the one who circled the earth first would be offered a sweet mango as a prize. While Muruga set off on his peacock the slower but wiser Ganesha circled his parents, deeming them the world, and received a disappointed and angry Muruga renounced his family and retired to the hill and sulked until his parents came down to earth to console him. Parvati pacified her little son calling him the fruit of wisdom 'pazham nee' (Palani).
Another legend has it that Idumban, a Shiva gana, slung two hills off Mount Kailash on both ends of a pole and carried it across his shoulder. When he came to Palani he was tired and set the hills down. At the time, an angry Muruga climbed one of the hills and stayed at the top. When Idumban tried to lift the hills back again, Muruga engaged him in a battle. There is a separate shrine for Idumban on the Palani hill top. Also, devotees carry the kavadi, a pole slung with two pieces of wood on both ends (symbolic of Idumban's burden), across their shoulders to Palani on long uphill treks during the Thai Poosam Festival. The idol of Dandayuthapani is made of Navabhashanam,a rare mix of nine minerals, and was installed in its present position 5000 years ago. It is a four-feet tall idol, slim and straight, his head shaven, holding a staff in one hand. The other hand is curved elegantly at waist level.

Palani Murugan Temple Timings
Also Read Palani Temple Seva Details
Also Read Rope Car Details of Palani Temple
Important Events At Palani Murugan Temple
Vasantha Navaratri
Sankara Jayanthi
Navaratri
Thai Poosam Festival
Panguni Uthiram
Palani Temple Official Website : https://palanimurugan.hrce.tn.gov.in/hrcehome/eservices_search.php?activity=eservices&tid=32203
Palani Temple Map Location