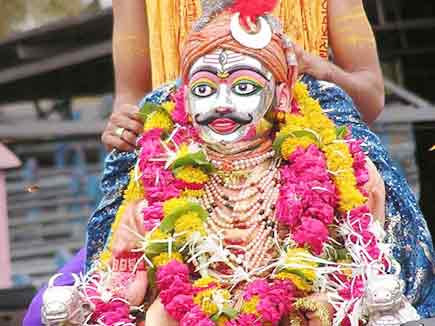 Mahakaleshwar Festivals
The Puja-archana, abhishekaarati and other rituals are regulalrly performed all the year round in Mahakala temple. Some particular aspects are as under –
1. Nitya Yatra: Yatra to be conducted is narrated in the Avanti Khanda of the Skanada Purana. In this Yatra, after taking bath in the holy Sipra, the Yatri (Participator) respectively visits Nagachandresvara, Kotesvara, Mahakalesvara, goddess Avanatika, goddessHarasiddhi and Agastyesvara for darsana.
2. Sawari (Procession): On every Monday of the Sravana month upto the Amavasya in the dark fortnight of the Bhadrapada and also from the bright week of the Kartika to the dark fortnight of Magasirsha, the procession of Lord Mahakala passes through the streets of Ujjain. The last Sawari in Bhadrapadais celebrated with great pomp and show and draws attendance of lakhs of people. The procession of Mahakala on Vijaydasami festival visiting the celebrations atDashahara Maidan is also very attractive.
3. Harihara Milana: On Baikuntha Chaturdasi, Lord Mahakala appointments Mandir in a procession to meet Lord (hari) during the mid-night. Later on in a similar procession on that very night Dwarakadhisa visits Mahakal temple. This festival is the symbol of one-ness between the two great Lords.